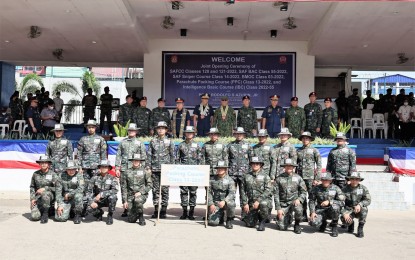 MANILA – The Philippine National Police-Special Action Force (PNP-SAF) has opened five courses to further capacitate its operatives.
In a statement on Friday, PNP chief Gen. Rodolfo Azurin Jr., officially opened the SAF training courses on Thursday in a simple ceremony held in Camp Bagong Diwa, Bicutan, Taguig City.
Opened simultaneously were the Special Action Force Commando Course (SAFCC) Classes 120 and 121-2022, SAF Basic Airborne Course (SAFBAC) class 55-2022, Basic Mechanized Operation Course (BMOC) class 03-2022, SAF Sniper Course (SAFS) 14-2022, Intelligence Basic Course (IBC) CLASS 59-2022, and Parachute Packing Course (PPC) Class 01-2022.
Azurin said the PNP will continue to enhance the operational capability and efficiency of PNP-SAF in performing its mandate and functions.
He said the PNP elite unit enlivens its virtue to serve God, country and people with utmost excellence living up with the SAF motto, "By skill and Virtue, We Triumph".
"We must be bolder, tougher, stronger and faster than the evil elements we are fighting against. We thus need men and women in the police force who will respond to the demands of the job and the expectations of the people we serve and protect," Azurin said. (PNA)