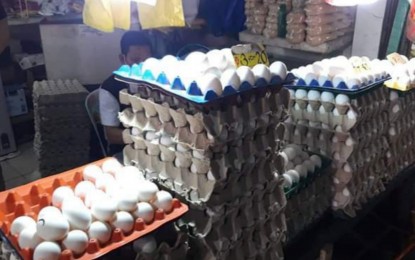 BACOLOD CITY – The province of Negros Occidental has a sufficient supply of eggs despite the ban on the entry of live birds and poultry products from areas with confirmed cases of the highly pathogenic avian influenza or bird flu to protect its PHP8-billion poultry industry.
This was an assurance made by Dr. Placeda Lemana, acting provincial veterinarian, on Friday, three days after Governor Eugenio Jose Lacson issued an order imposing a total poultry ban on Dec. 6.
"There is a big chance for table eggs from layers to be the carrier that's why it is not allowed to enter the province," Lemana said, adding that hatching eggs are exempted from the ban since these are still alive and fertile and thus safe from being infected by the virus.
Data from the Provincial Veterinary Office (PVO) showed that each month, layers in Negros Occidental supply an estimated 2.4 million eggs to other areas and distribute 198,000 eggs just within the province.
Meanwhile, Negros Occidental receives an average of 325,000 eggs from Iloilo Province; more than 666,000 from Capiz; and 3.1 million from Cebu Province.
Including the stocks coming from the province, Negros Occidental has a supply of some 4.3 million eggs every month.
"We send out more than what is coming from Panay, which means our produce can compensate for the eggs coming from Panay," Lemana said.
Under the total poultry ban, Negros Occidental prohibits the entry of live birds and poultry products from the neighboring Panay Island provinces of Iloilo, Capiz, Antique and Aklan and Guimaras Island as well as from Luzon and Mindanao.
To strictly impose the ban, veterinary inspectors are tasked to intercept the entry and confiscate birds and their products from restricted regions during an inspection at seaports, airports, and other points of entry.
Exempted from the ban are certain products that will be allowed entry regardless of shipping origin subject to compliance with requirements.
These include processed and unprocessed raw poultry meat, day-old chicks, and hatching eggs, including broiler, layer and breeder and embryonated eggs, popularly known as "balut". (PNA)