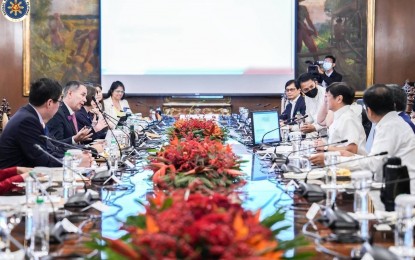 MANILA – President Ferdinand R. Marcos Jr. emphasized the importance of implementing a better system that would help Filipino workers excel and become more competitive, during a meeting with members of the Private Sector Advisory Council's (PSAC) job sector in Malacañan Palace on Friday.
"It's really skills training. We have to upskill everybody. We need to have a system that will work with everyone," Marcos said, as quoted by the Office of the Press Secretary (OPS) in a news release on Saturday.
Undersecretary Cheloy Garafil, officer in charge of the OPS, said that besides workers' skills development and learning recovery programs, also discussed during the meeting were vital initiatives and other programs aimed at creating more jobs for the Filipino workforce.
"Marcos, who presided over the meeting, reported that 16 innovation centers are with the Technical Education and Skills Development Authority, hence the need to support Filipino workers in upskilling to stay competitive," Garafil said.
For its part, the PSAC presented its recommendations to Marcos to accelerate the creation of quality jobs in the country.
The Office of the President (OP) likewise noted the PSAC's commitment to assist the national government in creating more jobs for Filipinos as the end of the year draws near.
"These include scaling up MSMEs through digital transformation, identifying high-potential businesses, attracting more investors, flexible labor regulation, and building skills for long-term competitiveness," the OP said.
Micro-credentials
Marcos also cited the need to acknowledge micro-credentials to make Filipino workers adaptable and diversely skilled, Garafil said.
Micro-credentials are short skills-focused qualifications that seek to support learners to skill up in a wide array of knowledge areas.
"Yung (The) micro-credentials, it's not a four-year course. It's not a degree. But you can present this to qualify for a job," Marcos said.
According to Garafil, the President also wants to "retrain and reskill" overseas Filipino workers (OFWs) who wish to come back to the country for good, with Marcos citing the efforts to upskill workers in the business process outsourcing (BPO) industry for offshore medical jobs.
Garafil noted that to scale up micro, small and medium enterprises (MSMEs), the PSAC recommended granting them access to money, markets, and mentoring, as well as enabling them to undertake digital transformation.
"President Marcos has committed to helping them flourish by streamlining existing processes and making it easier for MSMEs to thrive," she said.
Created under the Marcos administration, the PSAC is composed of business leaders and experts who aid the government to achieve its economic goals and revitalize the country's economy.
Present during the meeting were PSAC lead convenor and Aboitiz Group chief executive officer Sabin Aboitiz, and council members Jose Ma. Concepcion III, Lance Gokongwei, Rizalina Mantaring, Fred Ayala, Teresita Sy-Coson, Doris Magsaysay-Ho, and Kevin Tan.
Also present were PSAC secretariat members Ginggay Hontiveros-Malvar and Mary Geraldine Polanco-Onganon (Secretariat), and PSAC resource persons Kristine Romano and Christian Eyde Moeller.
Vice President and Education Secretary Sara Duterte-Carpio, Interior Secretary Benjamin Abalos Jr., Labor Secretary Bienvenido Laguesma, and Trade Secretary Alfredo Pascual were also in attendance. (PNA)