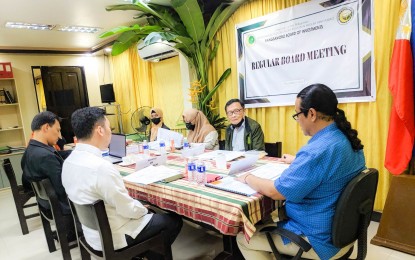 COTABATO CITY – The Bangsamoro Board of Investments (BBOI) is ending 2022 with a message that the Bangsamoro Autonomous Region in Muslim Mindanao (BARMM) remains a good investment destination by approving the PHP75-million registration for the expansion of Kaltimex Rural Energy Corp. (KREC).
KREC, 60 percent Filipino- and 40 percent Indonesian-owned, wants to expand an off-grid diesel power plant on 2.7 hectares of property, about 5 km. from the town center of Bongao, the capital of Tawi-Tawi.
The output of the 8-megawatt (MW) diesel power plant will supply electricity to the Tawi-Tawi Electric Cooperative with a total expansion cost of PHP75,554,881 and will generate 48 job employments, both direct and indirect.
"The PHP1.3-B total approved investments for this year indicates the improving investment environment in the region and the economy is humming back to life with industry conditions becoming stable," Mohamad Omar Pasigan, newly appointed BBOI-BARMM chairperson, said in a statement Saturday.
Pasigan said the registered investment projects would enjoy fiscal incentives, such as an income tax holiday and reduced duties and tariffs for the import of capital equipment, dispensed by the BBOI-BARMM under the Corporate Recovery and Tax Incentives for Enterprises law.
"KREC is recognized as the New Power Producer in Mindanao. We hope that with this registration, more investors of energy will put up their investments in BARMM," Pasigan said. "Investing in the region is safe and profitable and the BBOI is committed to guide and attend to the needs of our clients from the beginning to every step of the way."
Over the past three years or since the creation of BARMM, the region has generated a total of PHP8.1 billion worth of investments.
Despite the pandemic, local investors were boosting the economy with their investments in the region, former BBOI chairperson Ishak Mastura said in a previous interview.
BBOI data showed that PHP4.1 billion worth of investment was logged in 2019; PHP114 million in 2020; PHP2.8 billion in 2021; and PHP1.3 billion this year, with 5,704 workers employed.
Mastura, a lawyer and Bangsamoro Transition Authority member of parliament, said BBOI investment approvals peaked in the first year but plummeted the following year due to the pandemic.
BARMM's largest industry investor is in the banana industry and agriculture with 65.13 percent or PHP4.5 billion worth of investments.
Other industries are sand and gravel with PHP1.4 billion worth of investment, community Internet service providers (PHP14 million), oil extraction and gas exploration (PHP998 million), tourism (PHP398), halal certification (PHP49 million), and hotel and restaurant (PHP100 million). (PNA)