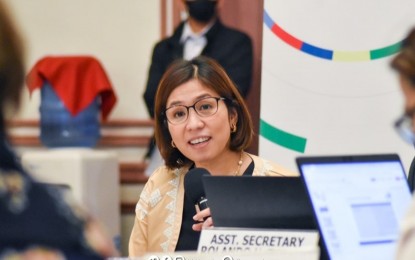 MANILA – The shift to digital governance and intensified information dissemination will enable the Marcos administration to earn public trust, Budget Secretary Amenah Pangandaman said Friday.
Pangandaman issued the statement during the year-end consultation session and fourth-quarter meeting of the Philippine Open Government Partnership (PH-OGP) Steering Committee in Davao City.
She said the public must be aware of the actions undertaken by the national government, including the development of the 6th PH-OGP national action plan.
"So, how do we achieve that kind of public trust? We could achieve this kind of public trust by integrating the power of technology in our governance," she said. "The PH-OGP's commitment to transparency, accountability, citizen engagement or public participation, and digital governance are all grounded in the overarching objective to increase public trust in the government."
Pangandaman acknowledged that the adoption of digital technology and strengthening public participation would help Filipinos understand the policies and programs of the national government.
Government workers, she said, should work with "willingness and excellence" to build public trust.
"We should do all these with public participation in mind. In our digitalization efforts, we should work on information dissemination and provide opportunities for exchange with the public," she said. "Doing and listening – these are the two elements that create trust in a relationship. As public servants who bridge the government and the people, may we do these with willingness and excellence."
Members of the OP-PGH steering committee held the consultation meeting to refine the draft executive order (EO) institutionalizing open and participatory governance through advocacy and outreach activities.
The meeting was convened to iron out important details in the EO before it reaches President Ferdinand R. Marcos Jr. for approval, the Department of Budget and Management (DBM) said in a statement.
"We want our published content, our National Action Plans included, to be understood by the people so that they know what their government is doing," Pangandaman said.
DBM Undersecretary Goddes Hope Libiran and PH-OGP Lead Secretariat, DBM Assistant Secretary Rolando Toledo, joined Pangandaman in the PH-OGP Steering Committee meeting.
The hybrid consultation meeting was also attended by National Economic and Development Authority Undersecretary Rosemarie Edillon, Presidential Management Staff Assistant Secretary Jericho Acedera, and other key representatives of the Department of Social Welfare and Development, Department of the Interior and Local Government, and Union of Local Authorities of the Philippines.
Also in attendance were Mindanao Coalition of Development NGO Networks chairperson and PH-OGP Steering Committee co-chair Andrea Maria Patricia Sarenas and key representatives of the Coalition for Bicol Development, Public Services Labor Independent Confederation - National Public Workers' Congress, Kaabag sa Sugbo Foundation, Inc., La Salle Institute of Governance, Sectoral Transparency Alliance on Natural Resource Governance in Cebu, Unang Hakbang Foundation, Inc., and Caucus of Development NGO Networks.
Founded in 2011, the OGP is composed of government leaders and civil society advocates seeking to create a partnership to promote transparent, participatory, inclusive, and accountable governance. (PNA)