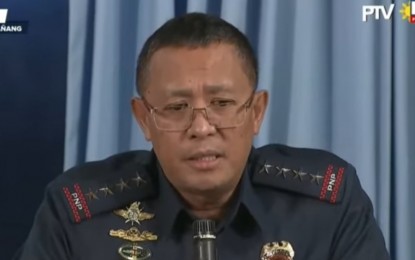 MANILA – Philippine National Police (PNP) chief Gen. Rodolfo Azurin Jr. on Monday said they are eyeing more interoperability training programs with the Armed Forces of the Philippines and the Philippine Coast Guard to stop smugglers in their tracks.
"We need more training especially for special operations in critical areas like Palawan, Basilan, Sulu and Tawi-Tawi. Even in the northern part of the country because it is our boundary with Taiwan, so there is a need for the presence of our troops there from the Maritime Group," Azurin said in a radio interview.
Azurin said these planned training with the military and coast guard will allow the PNP-Maritime Group with necessary skills in operations on the seas.
"Aside from training, we also need additional high-speed tactical watercraft for the conduct of patrol," he added.
Law enforcement agencies continue to work with the Bureau of Customs (BOC) in curbing smuggling.
Last week, the BOC, in its preliminary report, logged a total revenue collection of PHP790.301 billion from January to November.
This surpassed the PHP721.52 billion target revenue collection for this year.
PNP, Indonesian police eye stronger ties
Meanwhile, the PNP and the Indonesian National Police have moved to further strengthen cooperation on regional security issues between the two countries.
The police agencies of the two nations reaffirmed their respective commitment to cooperation, capacity-building and combating transnational crimes through a memorandum of understanding signed in Camp Crame, Quezon City on Monday.
Delegates of Indonesian National Police (INP) paid a courtesy call to Azurin to discuss mutual cooperation between the two countries on combating transnational crimes and promote stronger and more durable Philippines-Indonesia relations on law enforcement and regional security to spur domestic economic growth in both countries.
Around 13 officials of INP led by Agung Setya I.E., Deputy for Operations Affairs are in the country to conduct bilateral discussion meetings in preparation for the upcoming Joint Committee Meeting for 2023 and to set plans for the joint Maritime Law Enforcement Exercises (MARLEX) in 2023.
"May this undertaking serve as a venue to strengthen our mechanisms for integration and joint civil relations operations towards realization of our aspirations for peace, security, and progress of our nations in the finest ASEAN tradition," Azurin said.
The high-level visit and bilateral meeting were also attended by the directors of PNP Directorate for Intelligence (DI), Directorate for Investigation and Detective Management (DIDM), Directorate for Operations (DO), Directorate for Plans (DPL), Directorate for Police Community Relations (DPCR), Directorate for Human Resource and Doctrine Development (DHRDD), Criminal Investigation and Detection Group (CIDG), Maritime Group (MG), Intelligence Group, and Philippine National Police Academy (PNPA).
"I am optimistic that today's meeting will keep the Philippines and Indonesian relationship strong especially in creating effective strategies as partners in making the region a place where there is safety, security, and prosperity for all," Azurin added.
Crimes dip in Central Visayas
Meanwhile, the Police Regional Office (PRO)-7 (Central Visayas) has recorded a decrease in crimes in the region in the last two months.
The PRO-7 attributed this to the strategic anti-crime security adjustments and deployment that also led to more than 99 percent crime clearance efficiency.
Data from the PRO-7 showed a total of 37,444 crimes were recorded from October to the first week of December, a 5.24 percent drop compared to the same period last year with 39,514 cases.
For index crimes or crimes of serious nature such as murder, homicide, robbery and carnapping, the figure also went down by 9.84 percent.
PRO-7 director Brig. Gen. Roderick Augustus Alba said the decrease in crimes is an offshoot of an aggressive anti-criminality campaign that was implemented in the past two months.
He also added that out of 21,171 cases of crimes, a total of 21,033 were cleared.
This translates to a 99.35 percent crime clearance efficiency while crime solution efficiency is posted at 86.73 percent, or 18,361 cases solved. (PNA)