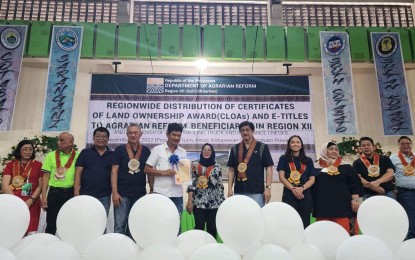 KIDAPAWAN CITY – For 56-year-old farmer Ruben Rivas of Barangay Maligaya, Columbio, Sultan Kudarat, receiving his certificate of land ownership award (CLOA) from the Department of Agrarian Reform (DAR) over the weekend was "a lifelong dream come true."
"I am so elated, I have been waiting for this for so long, with this CLOA I will continue to be a productive farmer of Sultan Kudarat," he said in the vernacular in a statement Monday.
Rivas, a farmer of high-value crops including Cavendish banana, was among the 3,524 beneficiaries in the CLOA distribution by DAR Secretary Conrado Estrella III from the provinces of South Cotabato, North Cotabato, Sultan Kudarat and Sarangani (Soccsksargen) held here Saturday.
Soccsksargen is the acronym for the four provinces and General Santos City, also known as Region 12.
"The land title is finally in my name. I am thankful for President Ferdinand R. Marcos Jr. and Sec. Estrella for the quick processing of our land titles," Rivas said, referring to the region-wide distribution of CLOA and e-titles to agrarian reform beneficiaries (ARBs).
Estrella said of the 6,103 hectares distributed, 3,692 hectares were subdivided into 2,166 electronic land titles (e-titles) and awarded to 1,871 ARBs under the DAR Support to Parcelization of Lands for Individual Titling (SPLIT) Project.
The project subdivides collective certificates of land ownership award (CCLOAs) that the DAR had previously issued.
"Issuing separate titles for each farmer-beneficiary is better because it enables them to have a clear and defined ownership of the parcels of land they are tilling. It will also give them the freedom to plant whatever they want on the lands awarded to them and not conform with what the majority wants," Estrella said in his speech during the program at the city gymnasium.
Under the SPLIT project, the DAR would subdivide the awarded lands covered by a CCLOA, which would mean that each farmer beneficiary would be given an individual land title based on the actual area or a particular portion of land they are tilling.
Also distributed were CLOAs issued under the Comprehensive Agrarian Reform Program (CARP) and government-owned lands under Executive Order 75.
Of the CLOAs under Comprehensive Agrarian Reform Program (CARP), 1,143 CLOAs covering 2,216 hectares of land were awarded to 1,220 ARBs, while 215 CLOAs under EO 75 covering 194 hectares of land were given to 182 ARBs.
Region 12 has the highest land title distribution under the current administration.
Farmer beneficiaries were elated as Estrella shared the good news about House Bill 6336, the proposed law that aims to condone the existing loan of farmers.
It has been approved in the second reading at the plenary of the House of Representatives.
"ARBs who are yet to receive their awarded land under the CARP will receive it without any obligation to pay any amortization," Estrella said.
Estrella and representatives from Philippine Crop Insurance Corporation also turned over indemnity checks worth PHP815,666 to ARBs of Carmen and Alamada, both in North Cotabato, with 53 ARBs and 108 ARBs as recipients, respectively.
The checks will be used to fund the recipients' farms which were devastated by bacterial stalk rot, rat infestation and the recent flooding from Typhoon Paeng.
Estrella also turned over a hauling vehicle worth PHP195,000 to Kisandal ARB Association of Magpet, North Cotabato under the Enhanced Partnership Against Hunger and Poverty Program to be used by the recipient ARBO in the transport of products to the markets. (PNA)