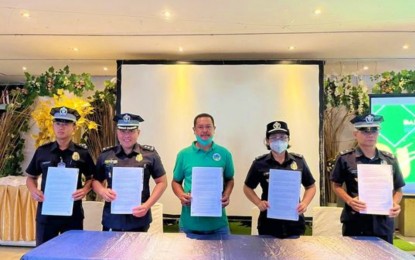 COTABATO CITY – An agrarian reform beneficiary organization (ARBO) in Sarangani province will continue to provide vegetable and food supplies to the Bureau of Jail Management and Penology (BJMP) through the help of the Department of Agrarian Reform (DAR).
This came after a new marketing agreement between Alkikan Vegetable Growers Association (ALVEGA), an ARBO in Malungon, Sarangani province, and the BJMP was implemented under the Enhanced Partnership Against Hunger and Poverty Program (EPAHPP).
EPAHPP is a government initiative addressing food security, hunger and poverty problems through the cooperation and convergence of essential services of various government agencies.
In a statement Monday, the DAR said this will be the third year of partnership between ALVEGA and the BJMP - Sarangani.
The DAR facilitated the renewal of the marketing agreement on Dec. 9 to ensure that agrarian reform beneficiaries (ARBs) maintain continuous market destinations for their farm produce, in line with the directive of DAR Secretary Conrado Estrella III to help improve the livelihood of the ARBs.
ALVEGA president Leonard Dela Cruz expressed his appreciation to the EPAHPP for helping them financially by continuously buying their products.
"We would like to thank DAR for their constant support and coordination. We would also like to assure the BJMP that our organization will continuously produce and deliver quality products," he said.
The marketing partnership has made significant contributions in augmenting the income and productivity of the farmer-beneficiaries through sustained purchases of fruits and vegetables from ALVEGA.
The program has helped reduce hunger and poverty in all sectors, including the sustainability of food supply to persons deprived of liberty (PDLs) in BJMP, said Cenon Original, the acting provincial agrarian reform program officer.
"Through EPAHPP, emerging opportunities have been unlocked for ALVEGA. These include the construction of farm-to-market road, the provision of technical knowledge on fertilizer and a hauling truck," he said.
He added that a "Kumustahan" session also held to check the progress of the ARBO in terms of product sales, frequency and volume of sales, which also provided an avenue for both parties to strategically resolve concerns and improve their partnership. (PNA)