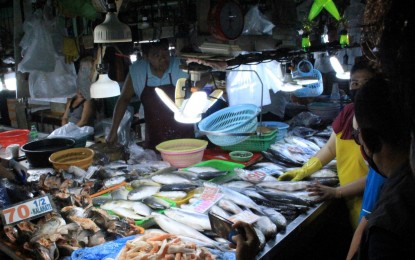 MANILA – The Bureau of Fisheries and Aquatic Resources (BFAR) told the Senate on Monday that it will open up a review of Fisheries Administrative Order (FAO) No. 195 with a wider range of stakeholders.
Officer-in-Charge Demosthenes Escoto said BFAR is responding to calls to spare small retailers and instead go after importers who violate the order.
"Kasama po sa ating review 'yung mga importer [under FAO] 195. Also included are stakeholders ng (of) fisheries, market vendors, supermarket and grocery owners," he said during the public hearing of the Committee on Agriculture, Food and Agrarian Reform.
Escoto said they have conducted two meetings with market administrators in Metro Manila.
"We are hoping that we will be able to move forward by next quarter of next year to come up with a more responsive and more efficient regulation on the importation of fish and fishery products," he said.
Issued in 1995, FAO 195 allows traders to import frozen fish, like pompano and salmon, for institutionalized buyers like restaurants and hotels.
After lawmakers and stakeholders questioned BFAR's decision to ban the sale of such varieties in wet markets, the bureau ordered a moratorium on its crackdown against imported fish.
The hearing was conducted after the recent privilege speech of Senator Raffy Tulfo, who questioned the BFAR order which he thinks affects the livelihood of small-time vendors and the availability of some fish products.
From Nov. 24 to Dec. 3, BFAR's Information, Education and Communication department visited 21 wet markets in Metro Manila to inform and educate fish vendors of the policies and to remind them not to sell imported fish products for canning, processing and institutional buyers, and help prevent at their level, the illegal diversion of these products that are unauthorized for wet markets. (PNA)