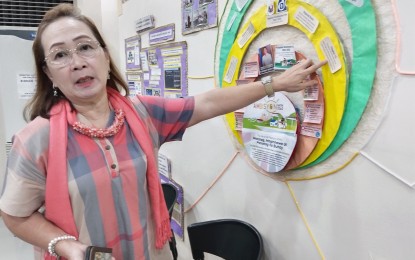 TACLOBAN CITY – Eastern Visayas will have to perform functions on a tight budget next year as national tax allocation (NTA) for its provinces, cities and towns was reduced by PHP6.44 billion.
The Department of Budget and Management (DBM) regional office said on Monday the national revenue next year was reduced to PHP38.08 billion from this year's PHP44.52 billion due to a drop in taxes collected by revenue agencies at the height of the pandemic in 2020.
"Local government units must work on a lower budget because tax collections in 2020 declined as well. In computing the NTA, we use as base period the three years preceding," DBM Eastern Visayas Regional Director Imelda Laceras said.
"In this case, the 2023 budget of local governments is measured against the revenues raised in 2020 when the collection was low due to movement restrictions," she told the Philippine News Agency.
The allocation for the six provinces in the region declined to PHP11.22 billion from PHP13.11 billion this year while outlay for seven cities dropped to PHP8.22 billion from PHP9.61 billion.
In Tacloban City alone, the regional capital allocation dropped by PHP186 million from this year's PHP1.28 billion to PHP1.09 billion.
The region's 139 towns will have PHP18.63 billion NTA in 2023, lower than the PHP21.79 billion this year.
"The decrease in the share of local governments nationwide is about 14 percent. The situation is irreversible," Laceras added.
The share for each province, city and town varies depending on the population and land area.
Laceras said the 2022 allocation of local government shot up due to higher government earnings in 2019, a year before the pandemic.
Another reason is the first year in the implementation of the Supreme Court's Mandanas-Garcia ruling, mandating the inclusion of all national taxes in the allocation of funding for local government.
The High Court favored the petition of Batangas Governor Hermilando Mandanas and former Bataan governor Enrique Garcia Jr. that local government units (LGUs) are entitled to a "just share" on all national taxes collected and not only from the Bureau of Internal Revenue.
With the increased budget share, LGUs are expected to be responsible for the funding and delivery of the activities which have been devolved to them under Republic Act 7160, the Local Government Code of 1991 and other subsequent laws.
"The reduction should not be the reason for our local government not to assume some of the devolved functions. They are empowered to be more efficient in the collection of local taxes. This is an opportunity to improve collection efficiency, review the tax base, explore public-private partnerships, and link with more financing institutions," Laceras said.
She said the reduction is just temporary, adding that beginning 2024, LGUs will get higher allocation due to improved revenue collections in 2021 with less strict mobility and reopening of businesses. (PNA)