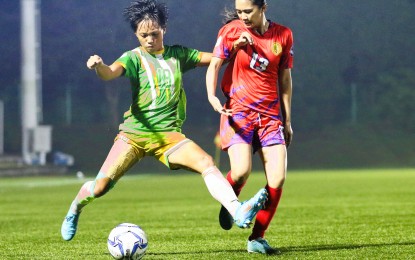 MANILA – University of the Philippines (UP) and Far Eastern University (FEU) have scored contrasting victories on Sunday to arrange a title showdown at the Philippine Football Federation (PFF) Women's Cup.
UP downed Kaya FC-Iloilo, 5-4, in the penalty shootout while FEU demolished Tuloy FC, 3-0, in their semifinal matches held at the PFF National Training Center in Carmona, Cavite province on Sunday.
"It was just a team effort, it was just all of us doing our best as a team collectively and we fought for it," UP defender Jennifer Baroin said.
"I am so proud of myself, my teammates for everything that we were able to accomplish. We really showed our hearts and efforts," she added.
Meanwhile, FEU came up with a brilliant performance to avenge their 0-1 loss to Tuloy FC in the group stage last week.
Katrina Magbitang scored the first goal at the 18th minute. Lylhanie Cayabyab added a second at the hour mark and Dionesa Tolentino's goal at the 79th minute sealed the victory.
"We are happy because we were able to apply the instructions of coach," Magbitang said. "Our last game against Tuloy was an eye opener for us and that's why we had to improve on our play to get this win."
The final match is scheduled on Dec. 17 at the PFF National Training Center, right after the battle for third place between Kaya FC-Iloilo and Tuloy FC.
Kaya FC-Iloilo finished the group stage as the top team followed by Tuloy FC, FEU and UP. (PNA)