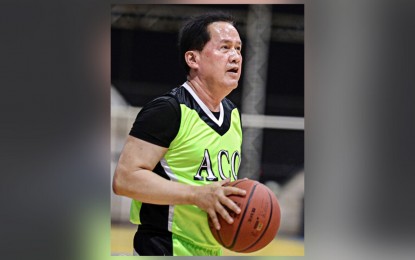 MANILA – The Department of Justice (DOJ) is waiting on the sidelines for any possible charges the United States government may file against evangelist Apollo Quiboloy.
There is no extradition request yet but the Philippines will abide by the terms, according to the Department of Justice (DOJ).
On Dec. 9, the US Department of the Treasury's Office of Foreign Assets Control announced sanctions on "a diverse array of over 40 individuals and entities that are connected to corruption or human rights abuse across nine countries," including Quiboloy.
"We're waiting on the sidelines kung ano magiging action nila (on what their action will be). We're looking at the cases to be filed. We're waiting for things to happen on our end," DOJ Secretary Jesus Crispin Remulla said in an interview on Monday. "Sa atin naman kasi (For us), we have a treaty with them, we have an extradition treaty and we have to abide by the terms of conditions our agreements with our friends from abroad."
The extradition process usually takes long, Remulla said.
"Marami pang mangyayari dito (A lot of things can still happen). They still have to file the necessary cases. Inuna lang 'ata nila itong (They first issued the) freezing of the assets. So wait and see lang tayo (We'll just wait and see)," he said.
The US government said "corrupt actors and human rights abusers both rely on deficiencies in the international financial system to perpetrate their activities. By exposing the egregious behavior of these actors, we can help disrupt their activities, dismantle their networks, and starve them of resources."
The 72-year-old Quiboloy, founder and leader of the Kingdom of Jesus Christ, The Name Above Every Name (KOJC), was indicted in the US on November 2021 and placed on the Federal Bureau of Investigation's most wanted list early this year for "his alleged participation in a labor trafficking scheme that brought church members to the United States, via fraudulently obtained visas, and forced the members to solicit donations for a bogus charity, donations that actually were used to finance church operations and the lavish lifestyles of its leaders."
"Quiboloy is sanctioned under the Global Magnitsky Act for human rights violations. Among other effects, all property and interests in property for Quiboloy in the US are blocked, and US persons and entities are blocked from engaging in transactions with Quiboloy," the US Embassy in Manila said in a statement on Saturday.
The victims, according to the indictment, were recruited to work as personal assistants or "pastorals" and were allegedly directed to have sex with Quiboloy during "night duty".
"Quiboloy kept pastorals in various countries, including the Philippines and the United States," the US Treasury Department said. "Quiboloy exploited his role within the KOJC to rape his victims and subject them to other physical abuse, describing these acts as sacrifices required by the Bible and by God for the victims' salvation."
In a press statement on Saturday, lawyer Manny Medrano said the US' move is "a piece of paper [that] is worthless until you go into a courtroom."
Seemingly unaffected, Quiboloy scored 92 points – 84 of them from the three-point area -- to lead his ACQ All-Star team past ACQ Selection, 115-92, at the Jose Maria College's Sky Gym in Davao City. (PNA)