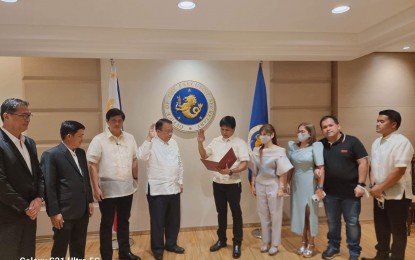 MANILA – President Ferdinand R. Marcos Jr. has named former Piddig, Ilocos Norte mayor Eduardo Eddie Guillen as acting administrator and member of the board of directors of the National Irrigation Administration (NIA).
In a letter dated Dec. 9, Marcos appointed Guillen as acting NIA administrator to replace Benny Antiporda, who was ordered suspended for six months.
"Pursuant to the provision of existing laws, you are hereby appointed as acting administrator and member, Board of Directors, National Irrigation Administration, vice Benny D. Antiporda," the letter read.
The Office of the Press Secretary also confirmed Guillen's appointment in a press statement.
Guillen took his oath before Executive Secretary Lucas Bersamin.
Guillen was first elected as Piddig mayor in 2010, and was succeeded by his wife incumbent Mayor Georgina Salazar-Guillen.
During his first term as mayor, the poverty incidence in Piddig was reduced from 33.7 percent to 5.6 percent within less than 20 years.
He also convinced the Department of Environment and Natural Resources to fund nurseries for lowland and highland coffee farming as part of its National Greening Program.
Guillen graduated with a bachelor of science degree in Civil Engineering from the Mapua Institute of Technology.
According to the University of the Philippines Center for Integrative and Development Studies website, Guillen had "a vision for agricultural development, and ideas on how to roll it out."
His parents are Piddig farmers, the website added.
Antiporda was suspended last month for grave misconduct, among other charges, following a lengthy complaint filed by NIA employees.
Several officers and members of the NIA Employees Association of the Philippines (NIAEASP) filed a complaint against Antiporda for allegedly humiliating and berating employees; placing some employees on the floating status and threatening not to renew employees' contracts if they do not agree with his policies among others.
Antiporda said the charges filed against him were "malicious, misleading" and meant to also humiliate the President. (PNA)