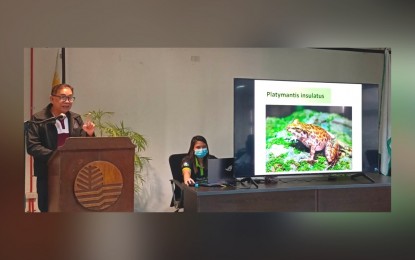 ILOILO CITY – Western Visayas got its first wildlife sanctuary which is located in the 280-hectare area covering Barangays Buaya, San Fernando and Alipata in the municipality of Carles in Iloilo province.
"The wildlife sanctuary is a category of protected area. All our legislated protected areas are natural parks, this is our first in Western Visayas under the wildlife sanctuary," said Danilo Lorilla, chief of the Department of Environment and Natural Resources–Conservation and Development Division (DENR-CDD), during a forum on Monday.
The Sicogon Island Wildlife Sanctuary by virtue of Republic Act 11933 has 318 recorded species of flora; 232 are trees where 32 are native to Panay Island; 21 species of herpetofauna where nine are endemic including a species of frog known as Platymantis insulatos that is endemic in Carles; 62 bird species wherein 12 are endemic in Panay; and 14 species of mammals to include the warty pig, leopard cat and two species of flying foxes.
He said the critically endangered species should be protected otherwise they will already be lost.
Following its declaration, Lorilla said the Protected Area Management Board (PAMB) was organized to serve as the governing board that will decide on the programs and projects that will be implemented based on their management plan.
"We will have a quarterly monitoring of the bio-diversity to know if the many interventions will have an effect," he said.
The area will be zoned eventually to include other areas for study.
DENR has already provided a little less than PHP2 million last year, the bulk of which was to identify and delineate the areas covered by the sanctuary.
The law converting the area into a sanctuary was authored by Iloilo Fifth district Representative Raul Tupas and Senator Cynthia Villar. (PNA)