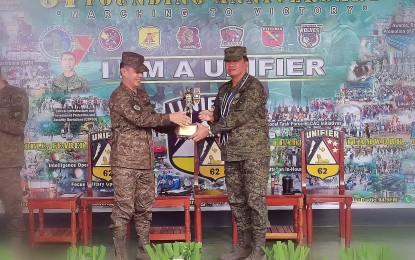 DUMAGUETE CITY – A key official of the Philippine Army in Negros Island on Tuesday said the threat posed by the Communist Party of the Philippines-New People's Army (CPP-NPA) is diminishing as peace and development efforts continue to bring in progress in affected areas.
Brig. Gen. Inocencio Pasaporte, 303rd Infantry Brigade commander, told the Philippine News Agency that there is a significant improvement in peace and development over the years since he was first assigned in 2017 in the island of Negros Oriental and Negros Occidental provinces.
"I was still the deputy brigade commander in 2017 and what I have seen then is a far cry from the current situation now, considering that we only had two Army battalions on the island," Pasaporte said in mixed English and Filipino.
"The 62nd Infantry Battalion was deployed in the north and the 79th Infantry Battalion in the south of Negros because the other units were pulled out to help address the terrorism problem in Mindanao, specifically in Marawi," he noted.
Pasaporte said the threat slowly diminished upon the return of the other units from Mindanao a couple of years later. Massive deployment of troops followed in organized areas where the NPA had concentrated its primary strength and support.
The brigade commander also noted the huge contribution provided by the local government units (LGUs), agencies, and other stakeholders to improve the peace and security on the island.
"The synergy with stakeholders has ushered in relative peace and is now cascading developments at several levels including those in the barangays," he said.
As an example, he cited the road projects in Guihulngan City, Negros Oriental, which have paved the way for development compared to back then when it was known as a hotbed for insurgency and which many considered as a "hopeless" case.
"Dati pag sinabi na Guihulngan, i-equate kaagad nila na magulo iyan (back then, when we talk of Guihulngan, it would be immediately equated to disorder)," he said.
Massive road networks in Guihulngan that lead to other parts of the province and in nearby Negros Occidental have a big impact on the "collective and collaborative efforts" in the area that have helped change the people's perception of the city, he added.
Pasaporte said there is a need to sustain these efforts to prevent the insurgents from regaining their strongholds amidst their constant recruitment activities.
Also, through the End Local Communist Armed Conflict (ELCAC) campaign of the government, this can be achieved provided all stakeholders will be united and going in the same direction, he said.
"The LGUs, political leaders, and chief executives have realized that this is what we all need for Guihulngan to progress," he said. "We cannot do that without the efforts of the LGU that is why we are also thankful for their partnership as we await more projects so that peace will finally be achieved on the island".
During the 34th anniversary of the 62nd Infantry Battalion on Monday, Pasaporte lauded the troops for their gains over the past year in sustaining the efforts to crush the communist insurgency in the unit's area of responsibility, including Guihulngan City and some areas in central Negros Oriental. (PNA)