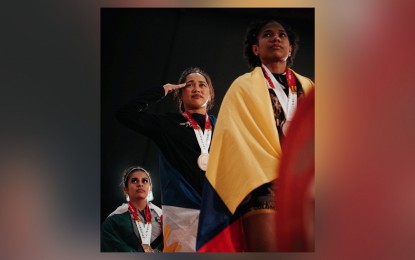 MANILA – A Senate resolution was filed Tuesday to commend Hidilyn Diaz for bringing yet another honor to the country by ruling the 55-kilogram (kg) category of the World Weightlifting Championships in Bogota, Colombia on Dec. 7.
Senate Resolution No. 379, filed by Senator Jinggoy Estrada, commends and congratulates the country's first Olympic gold medalist as she "continues to bring pride, joy, glory, to the country with her yet another impressive performance in the world arena. Such accomplishment deserves commendation from the Philippine Senate."
The Tokyo 2020 gold medalist cleared 93 kg on snatch and 114 kg on clean for a total of 207 kg to beat local favorite Rosalba Morales (199 kg) and Ana Gabriela Lopez of Mexico (198 kg).
The 31-year-old Diaz settled for bronze in the 53 kg class in 2015 and 2017 worlds and in the 55 kg last year.
"It was good timing because that is the last time I will compete at 55 kg," she told Olympics.com.
Diaz was also an Asian Games gold medalist in 2018 and in the Southeast Asian Games in 2019 and 2022.
"Her latest and momentous triumph as a world champion completes her remarkable gold medal haul from major weightlifting tournaments in her already stellar professional career," Estrada said in a news release.
Diaz plans to move up to 59 kg in the 2024 Paris Olympics, which would be her fifth and final stint in the quadrennial Games, after the 55 kg was dropped from the competition.
The World championships offered qualifying points for the Paris Games.
The Senate also conferred on Diaz a Medal of Excellence on Sept. 1, 2021 after her win in the Tokyo Olympics.
"To Hidilyn, you are a shining beacon of women in sports, continue to remain strong and resilient as you achieve your dreams," the Philippine Sports Commission said last week in a statement honoring Diaz. (PNA)