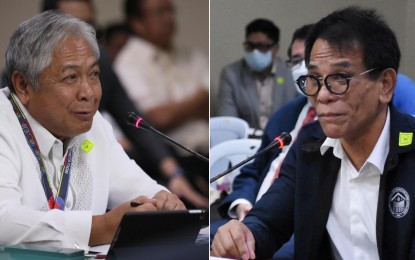 MANILA – Three Cabinet secretaries are nearing their final confirmation from the Commission on Appointments (CA) after getting the nod from the corresponding committees.
Department of Transportation (DOTr) Secretary Jaime Bautista told the CA Committee on Transportation that he is ready for the challenge to lead the sector that plays a vital role in the economy.
"Being an archipelago, land, sea, and air mobility are indispensable in our exchange of goods and services as well as our unity and cohesion as a people with shared goals among diverse local tranditions and practices," Bautista told the panel.
He expressed support to the proposal of Senator JV Ejercito for a long term, comprehensive masterplan for infrastructure development and transportation modernization, which he said he will endorse to President Ferdinand R. Marcos Jr.
"Kailangan po talagang magkaroon ng (We really must have a) long-term planning. There are countries, they plan up to 50 years. Dito po sa ating bansa, kailangan po talaga na iplano natin ang lahat ng (In our country, we really must have plans for everything) infrastructure project for airports, for railways, for ports, for roads and bridges," Bautista said.
The master plan, according to Ejercito, will pave the way for infrastructure development beyond the country's urban centers and spur new growth development areas around the archipelago.
Housing backlog
Department of Human Settlements and Urban Development Secretary Jose Rizalino Acuzar admitted the Philippines still has a long way to go in providing decent shelters for informal settler families (ISFs) but as an experienced real estate developer, reiterated his commitment to address the backlog within Marcos' six-year term.
"I am concerned with the informal settler families who are forced to stay homeless to sustain their source of living. I have observed that previous public housing projects have been unsuccessful as families refuse to relocate away from the cities," Acuzar said.
"Hence, I am pushing to provide shelters to ISFs already living and working in cities to remain close proximity to their livelihood," he added.
Acuzar started as a draftsman at Tondo Foreshore Redevelopment Project in 1975 and became a contractor in the 1980s before establishing the New San Jose Builders Inc.
Road to recovery
Meanwhile, National Economic and Development Authority (NEDA) Secretary Arsenio Balisacan told the CA that he always considers it an honor serving the Filipino.
"As our nation continues its full recovery and advances its journey to prosperity, we're confronted with the rapidly changing market conditions and much uncertainty in this global environment. Challenged, yet unfazed," Balisacan said vowing to realize the Marcos administration's 8-point socio-economic agenda and the Philippine Development Plan 2023-2028.
Balisacan also served as NEDA chief under the administration of the late President Benigno Aquino III from 2012 to 2016.
He led the conception of the AmBisyon Natin 2040, a long-term vision and the basis for planning that aims to provide every Filipino with a strongly rooted, comfortable, and secure life by 2040. (With a report from Leonel Abasola/PNA)