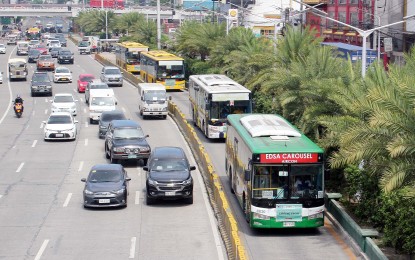 MANILA – Department of Energy (DOE) Undersecretary Felix William Fuentebella said the government is eyeing to allow hybrid and electric vehicles (EV) to use bus lanes and bike lanes in major thoroughfares like EDSA to promote the use of EVs.
During the Energy Investment Forum at Sheraton Manila Hotel Tuesday, Fuentebella said this is one of the non-fiscal incentives that the government can provide to encourage Filipinos to shift to e-vehicles.
"(A)nd the move for that is coming up with 'green plates' -- not the usual black and white plates for passenger vehicles but 'green plates' for e-vehicles to monitor it," he added.
The DOE official said those four-wheeled vehicles with 'green plates' may use the bus lane, which is now exclusively for EDSA Carousel.
This special lane is a faster way to travel EDSA as this is separated from the normal road traffic. A commuter can travel from North Avenue in Quezon City to Buendia in Makati City in just 20 minutes using the EDSA Busway.
Fuentebella said the two-wheeled e-vehicles may also use the bike lanes.
Earlier, the National Economic Development Authority (NEDA) Board endorsed to President Ferdinand R. Marcos Jr. an executive order (EO) that will scrap tariff on imported, completely built-up e-vehicles, except for hybrid EVs.
EV parts and components will also be lowered to 1 percent from 5 percent once the EO is signed by the President. (PNA)