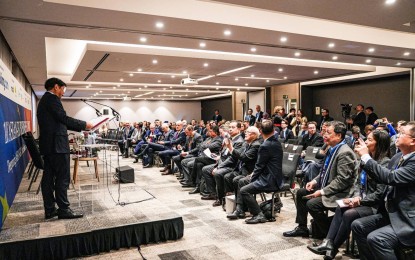 MANILA – President Ferdinand R. Marcos Jr. on Tuesday (Brussels time) assured the European Union (EU) that the Association of Southeast Asian Nations (ASEAN) continues to recognize its "historical importance" as a trade and investment partner.
In his closing remarks during the 10th ASEAN-EU Business Summit, Marcos emphasized the need for a free trade agreement (FTA) between the ASEAN and the EU while also prioritizing economic cooperation initiatives.
"While the ASEAN-EU FTA remains a common long-term objective, economic cooperation initiatives will be prioritized on areas of mutual interest in order to bridge the gap and realize this long-term objective," he told guests at the Sofitel Brussels Europe.
To recall, both blocs began negotiations on a free trade agreement in 2007 but instead opted for bilateral trade deals.
"ASEAN will continue to dialogue with the EU on ongoing economic competitiveness and competition initiatives," he added.
Marcos also emphasized the importance of collaboration between governments and private sectors to push for post-pandemic economic growth.
"It is important that our governments continue to collaborate with the private sector, especially now that the ASEAN Member States are in a post-pandemic economic recovery (period) and are facing new challenges brought about by recent geopolitical tensions," he said.
The President cited the "pivotal role" of the ASEAN-EU Business Council in advancing the ASEAN's regional economic integration and post-pandemic economic recovery through its various initiatives and valuable recommendations.
"ASEAN's regional economic integration has been assisted by this Business Council through the (ASEAN-EU Trade) and Investment Work Programme, we hope to continue this momentum for (2023) and forward," he said.
He said discussions that would be tackled during the Summit would not only bring new impetus for both blocs to bolster sustainable trade and investment but also open ways to speed up the implementation of the EU Indo-Pacific Strategy.
Likewise, he thanked the ASEAN-EU Business Council for its continued support and engagement with the ASEAN, from the sectoral bodies up to the Leaders forum.
He touted the ASEAN's increased presence on the global stage through efforts on regional economic integration and supply chain resilience.
"The entry into force of the Regional Comprehensive Economic Partnership or RCEP, the ongoing review of existing trade agreements, ASEAN's initiatives to facilitate trade of essential goods demonstrate the region's push to maintain an open, free, and fair trade," Marcos said.
He said the participation of ASEAN members in mega trade deals, such as RCEP and the Comprehensive and Progressive Agreement for Trans-Pacific Partnership, shows that the ASEAN is "well-positioned to accelerate intra-regional trade and profit."
The Philippines has been the ASEAN-EU country coordinator since 2021 and will stay in that role until 2024. (PNA)