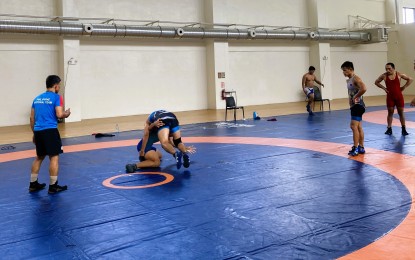 MANILA – Members of the Philippine wrestling team, who arrived in two batches in Cambodia's capital city of Phnom Penh this week, are in high spirits as they look forward to the Southeast Asian Championships which will kick off on Dec. 16.
The men's team is composed of Michael Vijay Cater (Greco 55kg), Margarito Angana (Greco 50kg), Noel Norada (Greco 63kg), Joefer Callado (Greco 57kg), Jason Baucas (Greco 72kg), Jefferson Manatad (Greco 87kg), Alvin Lobreguito (Freestyle 57kg), Ronil Tubog (Freestyle 61kg), Jhonny Morte (Freestyle 65kg), Jeferson Calingayan (Freestyle 70kg) and Neonards Cervantes (Freestyle 79kg).
Participating in Women's Wrestling competition are Jiah Pingot (50kg), Maribel Angana (53kg), Aliah Rose Gavalez (55kg), Rea Grace Cervantes (57kg) and Mariane Mariano (59kg).
As a pre-SEA Games tournament, the Southeast Asian Wrestling Championships feature the best in the region.
Led by seven podium finishers at the 2022 Vietnam SEAG last May – silver medalists Manatad, Lobreguito, Morte, Tubog, Pingot and bronze medal winners Norada and Margarito Angana Jr.-- the national wrestlers are expected to perform well against opponents who would be joining the 2023 Cambodia SEAG.
With seven silvers and three bronzes, the Philippines finished third behind Vietnam (17 golds and one silver) and Cambodia (one gold, one silver and four bronzes).
The Cambodian wrestlers have shown their determination to win more medals as host of SEAG.
Last June, they pocketed three gold, three silver and one bronze medals at the Wrestling and Beach Wrestling Championships of Thailand.
They have also improved a lot since training under Iranian coach Komeil Ghasemi in 2021. Ghasemi won the freestyle 120kg gold medal at the 2012 London Olympics. (PNA)