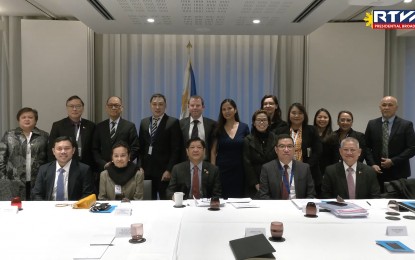 MANILA – President Ferdinand R. Marcos Jr. on Wednesday secured a PHP4.7 billion investment from multinational consumer goods company, Unilever.
In a press release, Malacañang said the deal was secured during a meeting between Marcos and officials of Unilever on the sidelines of the Association of Southeast Asian Nations-European Union (ASEAN-EU) Commemorative Summit in Brussels, Belgium.
Marcos thanked the British company for its strong commitment to the Philippines, saying it was good to see that Unilever is continuing with that trend over the years.
"I think that we have a good opportunity with some of the policy measures that have been taken from the previous administration and some of the policy changes that we have made at the beginning of this administration," Marcos told Unilever officials at the Sofitel Brussels Europe Hotel.
Among these policy changes are the Corporate Recovery and Tax Incentives for Enterprises (CREATE) Law, which will allow companies to provide competitive incentives and the removal of foreign ownership restrictions on undertakings aimed at harnessing renewable sources of energy that had been previously capped at 40 percent.
The President said forging strong partnerships is one of the centerpieces of the administration's policies, focusing more on public-private partnerships (PPPs), joint ventures and all kinds of tie-ups to encourage investment in the Philippines.
He said he wanted to have a meeting with Unilever officials to listen to them and assess policy directions to make investment easier for the company.
Unilever Leadership Executive member and Business Group President Ice Cream Matt Close, for his part, described the multibillion-peso investment as "proof of their commitment to the Philippines, which they consider as one of Unilever's important locations for investments."
"Unilever officials said that in the last three years, they invested heavily in their Philippine factories, with an eye on using renewable energy and ensuring sustainability," the press release read.
Despite issues on energy and labor, Unilever said it would recoup through automation and digital transformation, where Filipinos excel.
Renewable energy investment pledge
Meanwhile, Marcos also secured an investment pledge on renewable energy and infrastructure from Acciona, a Spanish multinational firm specializing in the development and management of infrastructure and renewable energy.
He acknowledged that "there has been a lot of progress in that regard, but we need to do more in terms of building up our renewables."
"There is this move to renewables, so we have to adjust… we'll have to increase our capacity for production," said the President.
"These are all relevant to the Philippines, and I hope that I'll be able to see you there... your operations in these specific areas," he told Acciona officials.
Acciona's commitment coincides with the lifting of the 40 percent equity cap for foreign firms in renewable energy projects, particularly those for the solar and offshore wind sectors.
Acciona officials, led by Chairman Jose Manuel Entrecanales, are also looking at Manila as their main hub in the Southeast Asian region.
"To the extent of our possibilities… we are comfortable in your country. We find it welcoming and business-friendly, so we would like to make the Philippines one of our -- if not our main hub for the Southeast Asia," Entrecanales said.
Acciona gave assurance to building "smart infrastructure that is sustainable, mitigating, adapting, resilient and transformative."
Acciona is the principal contractor for the second section of the railway line that will connect Malolos City with Clark International Airport in the Philippines, 50 miles north of Manila. The contract is valued at USD656 million.
In September last year, the EU-based firm completed the 650-meter-long Cebu-Cordova cable-stayed bridge in the Philippines, which links Cebu City and Mactan Airport.
Other pledges
Aside from Unilever and Acciona, Marcos also met with business leaders from other European-based companies namely Ocea and Semmaris.
Ocea is a French multinational company that specializes in maritime safety, security and navigation as well as shipbuilding and integrated logistics support.
"The company plans to develop a shipyard in the Philippines with an investment of PHP1.5 billion which is expected to create 500 to 600 direct and indirect jobs," according to Radio Television Malacañang (RTVM) on its official Facebook page.
Semmaris is a France-based company that manages the Rungis International Market, the world's largest fresh produce market located in Paris, France.
The company also ensures the development, commercialization and promotion of the Market's infrastructure, as well as the security of its tenants.
"As a logistics hub management company, Semmaris plans to develop an agro-logistics service in New Clark City, Tarlac that will build and operate a wholesale market for fresh products with an organized and efficient food supply and value chain," RTVM said.
After meeting with business executives, Marcos is scheduled to participate in the ASEAN-EU Commemorative Summit where he is expected to speak on several occasions at the plenary.
He will also be joining European Council President Charles Michel, European Commission President Ursula von der Leyen and Prime Minister Hun Sen of Cambodia in a press conference after the Summit proper. (PNA)