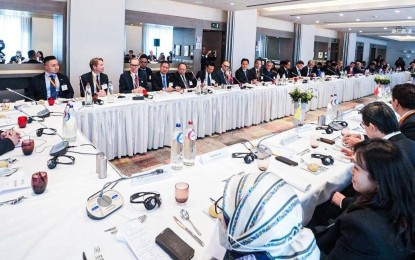 MANILA – President Ferdinand R. Marcos Jr. earned praises from European business executives for his performance at the C-Suite Luncheon where he pushed for investments and climate change action.
European Chamber of Commerce in the Philippines (ECCP) executive director Florian Gottein said the business leaders were impressed by Marcos' commitment to the initiatives on regional economic integration, according to Malacañang in a press release.
"European business leaders reacted very positively [to] President Ferdinand Marcos Jr.'s speech during a C-Suite Luncheon with European Business Leaders before the 10th ASEAN-EU [Association of Southeast Asian Nations-European Union] business summit in which he called for more European investments in the Philippines as well as he asked for more support from Europe on climate action issues," Gottein said in a statement.
ECCP is a bilateral foreign chamber that promotes European interests in the Philippines as well as Philippine interests in Europe.
Department of Trade and Industry (DTI) Undersecretary Ceferino Rodolfo, for his part, said top European leaders expressed admiration for Marcos' dedication to attending all meetings despite catching a cold.
"...Hindi po nanggagaling sa atin 'to, pero galing mismo doon sa mga (This didn't come from us, but the) European businessmen. They were very impressed because the president valiantly and heroically soldiered on," Rodolfo said.
He cited how Marcos insisted on attending the meetings despite nearly losing his voice.
"Lahat po ng mga meeting niya with the businessmen, pinuntahan niya ho kahit ho wala na siyang boses, talagang pinilit niya ho mabigay 'yung mensahe niya. Sabi niya (All of his meetings with the businessmen, he went even though he no longer had a voice, he really insisted on giving his message. He said), the messages have to come from me as the President of the Philippines, inviting the investors," he added.

Squeaky voice
In his closing remarks during the 10th ASEAN-EU Business Summit, Marcos expressed appreciation to the guests for listening to his speech despite his "squeaky voice", adding that "winter is not suitable to Filipinos."
"Thank you for putting up with this very strange, squeaky voice," he said.
He also apologized to business leaders at the C-Suite Luncheon, admitting that he was not used to the cold weather.
"I would also like at this point to apologize for my voice, but you must understand that a temperature difference of --- from 35 degrees to -3 is a big jump for this old body," the 65-year-old President said.
House Speaker Martin Romualdez, the President's cousin, earlier revealed that Marcos "got a cold" after the latter decided to skip a scheduled media briefing on Tuesday (Brussels time).
Marcos, in the same speech, likewise emphasized how the EU-ASEAN Business Council continues to "play a crucial role" in advancing ASEAN's regional economic integration and post-pandemic economic recovery efforts.
He expressed hope that the ASEAN and EU would continue the momentum on trade and investment in 2023 and beyond.
He also thanked the EU-ASEAN Business Council for its continued support and engagement with ASEAN, from the sectoral bodies up to the Leaders' level. (PNA)