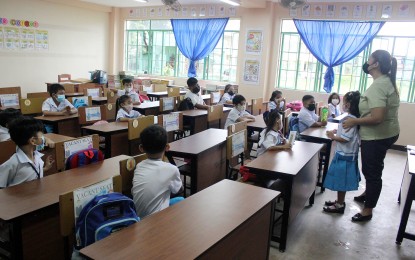 MANILA – A proposal suspending the use of mother tongue as the medium of instructions for Kindergarten to Grade 3 has hurdled committee level at the House of Representatives.
During a hearing on Wednesday, the House Committee on Basic Education and Culture, chaired by Pasig Rep. Roman Romulo, approved the unnumbered substitute bill to HBs 2188, in consolidation with HB 3925, which aims to address the patent lack of learning materials on mother tongue language in schools and ensure the adherence to the constitutional mandate of providing quality education that is accessible to all learners in the basic education.
The suspension, according to proposed bill, would stay until such time that the Department of Education (DepEd) is able to certify to Congress that it has completed its books, teaching materials and supplies to effectively use of mother tongue or first language to learners in Kindergarten to Grade 3.
Romulo said while he is in full support of the intentions and rationale behind the crafting of the provisions on the Mother Tongue-Based Multilingual Education (MTB-MLE) in the Republic Act No. 10533, otherwise known as the Enhanced Basic Education Act of 2013, the schools are ill-equipped to achieve the desired objectives.
"It appears that amidst that the height of passion to be able to deliver internationally competitive education to our people, we have utterly failed to consider the proper preparations that are necessary to fruitfully implement the provisions of the law," Romulo said.
"Instead of comprehending the lessons and expanding their knowledge which the law seeks to attain, our primary schoolers are afflicted with learning an unfamiliar language. Worse, they do not have sufficient materials to understand the said language," he added.
The panel also approved the substitute measure establishing an Academic Recovery and Accessible Learning (ARAL) Program.
The ARAL Program aims to address the gap between the current and the expected learning competencies among learners, as well as ensure that the learners attain the most essential learning competencies covering the subjects of reading, science and mathematics.
It would also serve as the national academic intervention program to address the issues of learning loss and academic struggles of basic education learners.
The program would cover the following learners: a) those who are failing in the examinations and tests as assessed and evaluated by the teachers, b) those whose grades are at and marginally above the minimum level of mastery required in the attainment of the Most Essential Learning Competencies and c) those who have returned or are returning to school after a furlough.
The program would hire tutors from any of the following: 1) students of teacher education institutions; 2) government internship program of the Department of Labor and Employment; 3) students in higher and technical-vocational educational institutions taking up the National Training Services under the National Service Training Program; 4) volunteers from NGOs or civil society organizations and 5) individual volunteers. (PNA)