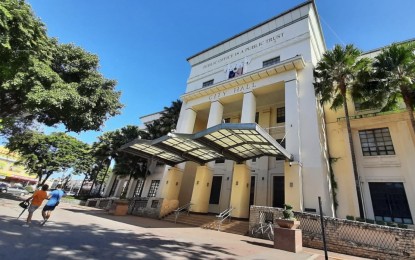 CEBU CITY – The National Bureau of Investigation in Central Visayas (NBI-7) on Thursday said it has filed plunder charges against eight former and incumbent officials of the Cebu City government over a garbage collection contract that cost PHP239.7 million in city funds.
Lawyer Renan Oliva, NBI-7 regional director, said apart from plunder, they also filed cases of malversation of public funds, graft and corruption and violation of the Code of Conduct and Ethical Standards for Public Officials and Employees against the officials before the Office of the Ombudsman-Visayas on Wednesday.
"This investigation was initiated by the request of then Vice Mayor Michael Rama, who requested our office on Aug. 24, 2021, as well as the attached letter of Sangguniang Panlungsod resolution requesting for investigation on the contract for hauling of Cebu City garbage," Oliva said in a press conference.
Rama, who is now the incumbent mayor, sought the assistance of NBI-7 in investigating what he said was an irregular garbage collection contract with a private construction firm.
The respondents are former city administrator and lawyer Floro Casas Jr., former Department of Public Services (DPS) chief and lawyer John Jigo Dacua, and Cebu Environmental Sanitation and Enforcement Team head and former garbage disposal unit in-charge Grace Luardo-Silva.
Also facing the same charges are City Treasurer's Office inspectors for DPS Allen Omlero Ceballos and Romelito Asinjo Datan, General Services Office inspectors for DPS Mark Abarquez Ugbinar and Jerome Visarra Ornopia and acting City Treasurer Mare Vae Fernandez.
The NBI-7 also filed criminal charges against private individuals from Docast Construction and JJ & J Construction and General Supply -- authorized managing officer Jayra Angelic Maningo Ruiz-Javier, operations manager John David Sevilles Javier, encoder Erika May Quiño, incorporators Jay Alexander Aguilar Ruiz, Maridel Maningo Ruiz, Robert Jay Maningo Ruiz and Jayvic Castrenz Maningo Ruiz.
"The total amount that should have been paid is PHP111,431,280. The total amount actually paid is PHP367,141,446 less equivalent withholding tax of PHP15,981,885.38. The total overbilled payment was PHP239,728,280.62 which falls under the category of plunder," Oliva said.
Gregorio Algoso Jr., NBI-7 special agent tasked to investigate the case, said they will submit to the Ombudsman several documents used in the scheme, including questionable billing statements, as supporting evidence against the respondents.
Among the respondents, Luardo denied she had a hand in the garbage collection transaction of the city government, adding that she is willing to undergo a lifestyle check to prove that she did not steal in her 32 years of public service. (PNA)