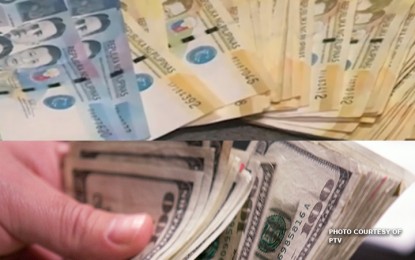 MANILA – The impact of the elevated inflation rate, along with improved diplomatic relations between the Philippines and host countries, are expected to further lift remittance growth, an economist said.
Data released by the Bangko Sentral ng Pilipinas (BSP) on Thursday showed a 3.5 percent year-on-year increase in cash inflows from overseas Filipino workers (OFWs) last October to USD2.911 billion, up from year-ago's 2.4 percent expansion.
Rizal Commercial Banking Corporation chief economist Michael Ricafort said the latest remittance monthly inflows is the highest in three months or since last July.
"The continued growth in OFW remittances may be attributed to the relatively higher prices/inflation that may have required the sending of more remittances to cope up with higher prices of goods and services for OFWs and their families/dependents in the Philippines," he said.
The domestic rate of price increases last October posted its highest since November 2002 when it accelerated to 8 percent year-on-year from the previous month's 7.7 percent, primarily due to the impact of higher prices of commodities in the international market.
Seasonally, remittance inflows are higher during the last quarter of the year in time for the Christmas holiday.
Ricafort attributed the continued jumps in remittances to reopening of more economies where OFWs are working, with some workers regaining jobs lost during the early days of the pandemic.
He said the country is the world's top supplier of nurses, accounting for about 20 percent globally, and the biggest supplier of seafarers at around 20 to 25 percent.
"Aging population in some developed countries also structurally increased the demand for OFWs in recent years, especially amid tighter labor markets in some host/developed countries due to better economic recovery prospects," he added.
Ricafort said remittances to the Philippines have consistently been the fourth largest in the world after India, China and Mexico, at around USD35 billion annually.
This, he said, is "a sign of resilience despite the Covid-19 (coronavirus disease 2019) pandemic."
"Improved foreign/diplomatic relations especially with host countries for OFWs around the world would help sustain the growth in OFW remittances," he added. (PNA)