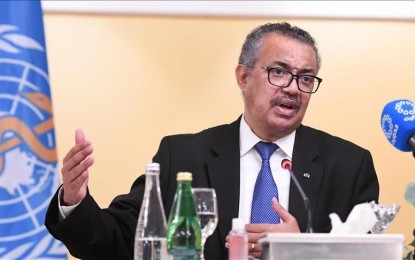 GENEVA – The World Health Organization (WHO) on Wednesday said it is hopeful that Covid-19 will no longer a global health emergency at some point next year.
In a news conference in Geneva, WHO Director-General Tedros Adhanom Ghebreyesus said the past year had been another challenging one for the health of the world's people.
"One year ago, omicron had just been identified and was starting to take off," Tedros said.
Covid-19 killed 50,000 people each week at that time, while less than 10,000 people lost their lives last week.
"That's still 10,000 too many – and there is still a lot that all countries can do to save lives – but we have come a long way," Tedros said. "We're hopeful that at some point next year, we will be able to say that Covid-19 is no longer a global health emergency."
At the end of January 2020, the WHO declared Covid-19 a public health emergency of international concern – the highest alarm level under international law.
At that time, fewer than 100 cases and no deaths were reported outside China.
'Share the data'
"We continue to call on China to share the data and conduct the studies that we have requested to understand the origins of this virus better," Tedros said. "As I have said many times, all hypotheses remain on the table."
WHO officials said more vaccination is needed to combat Covid-19, but in China, where there has been an upsurge, only about 60 percent of the population has been jabbed.
Since the first cases became known, the WHO has had more than 645 million confirmed cases, almost 6.64 million deaths, and over 13 billion vaccines administered against the disease, which was first reported in China at the end of 2019.
The criteria for declaring an end to the emergency will be among the topics of conversation when the Emergency Committee meets in January, Tedros said.
"Of course, this virus will not go away," he said.
"It's here to stay, and all countries will need to learn to manage it alongside other respiratory illnesses, including influenza and RSV, both of which are now circulating intensely in many countries," the WHO chief added.
He said only one in five people in low-income countries had been vaccinated.
"Access to diagnostics and life-saving treatments for Covid-19 remains unacceptably unaffordable and unequal," Tedros said. (Anadolu)