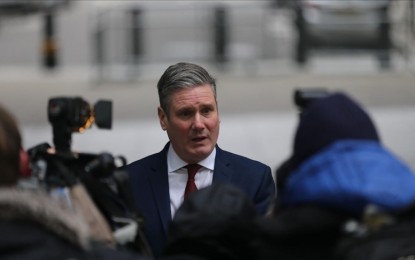 LONDON – The opposition Labor party urged British Prime Minister Rishi Sunak on Wednesday to reach a deal with nurses planning to hold a massive strike, claiming that protest would be a "badge of shame for this government."
During Prime Minister's Questions in parliament, Labor party leader Keir Starmer asked Sunak why he had not met with unions to stop the strikes – the biggest in the National Health Service (NHS) history.
Nurses in England, Wales, and Northern Ireland are set to go on strike on Dec. 15 and Dec. 20 over a pay dispute with the government.
The Royal College of Nursing (RCN), the world's largest nurses union, said it had been given no other choice after the government said their demand for a 19 percent pay raise was unaffordable.
"Instead of showing leadership, he's playing games with people's health. And there is a human cost," said Starmer, questioning Sunak on how he planned to resolve the strike.
In response, Sunak accused Starmer of being too "weak" to stand up to trade unions saying: "The honorable gentleman says to get round the table but we all know what that means. That is just simply a political formula for avoiding taking a position on this issue."
"If he thinks the strikes are wrong, he should say so. If he thinks it is right that pay demands of 19 percent are met, then he should say so. What is weak is he is not strong enough to stand up to the unions."
Sunak further defended the government policy, saying they were investing billions of more pounds into the NHS.
"We're already hiring thousands more doctors and nurses. But, if he (Starmer) asked about backlogs in the waiting time to the NHS, then yes. What he always fails to acknowledge is the impact that Covid did. That's why we're facing pressures," the premier said.
"If we listened to him, the backlog would still be growing and that's because we would still be in lockdown," he added. (Anadolu)