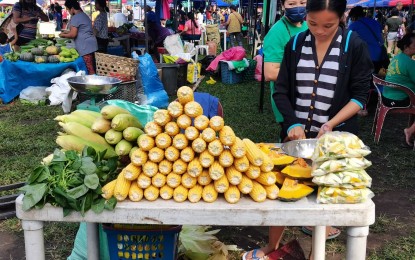 DUMAGUETE CITY – The regular Sunday food and agri-fair at the town plaza of Valencia, Negros Oriental is attracting more visitors to get a taste of local and international cuisines as well as buy fresh farm produce, as businesses are picking up after the Covid-19 pandemic.
One vendor, Manang Violeta, told the Philippine News Agency that she goes to the town plaza market on Sundays to sell vegetables directly from her garden while also sharing a stall with a neighbor.
"On regular days, I sell vegetables and sometimes fruits (bought from a supplier) in Dumaguete but when I learned that sellers rake in a hefty income in Valencia, I tried it for the first time about three or four months ago," she said in the Cebuano dialect.
The Sunday food fair and agri-fair started 18 years ago as simply a "paunay" or flea market to eliminate middlemen, said Desiderio Tilos Jr., the local tourism officer.
Only local farmers used to go to the town plaza to sell their products but in recent years, food sellers from outside Valencia started to penetrate the market, he said.
"It then started to boom as many popular restaurant and resort owners in Dumaguete, Dauin, and other places, as well as foreigners, joined the Sunday fair when pandemic restrictions eased," he added.
The farmers and food sellers now co-exist and complement each other on Sundays, with the market operating from 5 a.m. to noon.
A maximum of PHP500 rental for space is collected by the municipality although it actually varies, depending on what they are selling, Tilos said.
The town is strictly implementing a "no plastic policy" at the market, which means sellers have to use paper bags or even banana leaves or eco-bags for the products they are selling.
Tilos said the town deploys workers to monitor the activities at the Sunday market with members of the Valencia Local Council of Women also selling tote bags in the plaza vicinity.
Foreigners married to Filipinas and who reside in Valencia or other parts of the province also sell a variety of food and other products at the Sunday market.
Sold at the food stalls are various dishes, delicacies and beverages from countries like Iran, Vietnam, Indonesia and Germany. The number of stalls varies every Sunday but about 40 of them set up business at one time or another.
Fresh vegetables and fruits are also available at lower prices compared to grocery stores and supermarkets, while plants and flowers are also sold at the plaza.
Tilos said the Sunday market, held all-year round, has helped spur the economy of Valencia and helps not just the town's farmers but other businesses. (PNA)