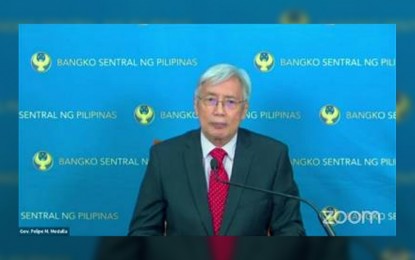 MANILA — Further acceleration of domestic inflation rate to a 14-year high last November played a big role in the 50 basis points increase of the Bangko Sentral ng Pilipinas (BSP) key rates on Thursday, a day after the Federal Reserve announced the same hike.
Effective Dec. 16, the BSP's overnight reverse repurchase (RRP) rate will be at 5.5 percent, same as in December 2008 when the rate was reduced by 50 basis points, BSP Governor Felipe Medalla said in a briefing.
During the same time, the central bank's overnight deposit rate will be at 5 percent and the overnight lending rate will be at 6 percent
The rate of price increases accelerated to 8 percent last November from the previous month's 7.7 percent.
This brought the average inflation in the first 11 months this year to 5.6 percent, way over the 2 to 4 percent target band of the government.
Medalla also attributed the further upward adjustment in the central bank's key policy rate to expectations that domestic inflation rate will hit its peak for the year this month as core inflation remains on the uptrend and pent-up demand remains high.
He said upside risks to inflation "continue to dominate the inflation outlook up to 2023 while remaining broadly balanced in 2024."
Medalla traced the upside risk to higher food prices in the international market on account of jumps in fertilizer prices and supply chain problems, as well as the higher prices of some fruits and vegetables in the domestic market due to weather-related factors, pending fare hike petitions, higher sugar prices and potential wage increase.
However, these factors are expected to be countered by expectations for a weaker global economic output.
"Amid broad-based inflation pressures, persistent upside risks to inflation, and elevated inflation expectations, the Monetary Board deems it necessary to take aggressive monetary action to bring headline inflation back to within target as soon as possible," Medalla said.
He said the rate hike "will continue to provide a cushion against external spillovers amid tighter global financial conditions."
Asked whether a pause in the policy rate is possible in the next quarter given that the key rates have been increased by a total of 350 basis points since last May, Medalla said, "That's too far to say."
"The worst may be over but clearly we have to be very vigilant," he added.
Medalla said the central bank is firm on bringing inflation rate back to below 4 percent by the third quarter of next year, thus "it's necessary to raise the policy rate to achieve that."
Even with inflation expected to accelerate anew this month, the BSP kept its 5.8 percent average inflation forecast for this year.
It, however, hiked the 2023 forecast to 4.5 percent from 4.3 percent last November due to the impact of the latest inflation figures.
The 2024 projection was reduced from 3.1 percent to 2.8 percent due to the impact of easing oil prices, improvement of the peso against the US dollar and the results of the BSP rate hikes. (PNA)