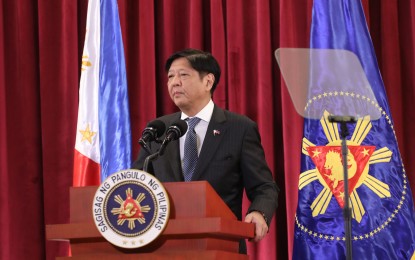 MANILA – President Ferdinand R. Marcos Jr. on Thursday night announced that the Philippines has acquired PHP9.8 billion worth of investment pledges from European business executives after his three-day participation in the Association of Southeast Asian Nations-European Union (ASEAN-EU) Commemorative Summits in Brussels, Belgium.
Marcos and his delegation arrived at 6:58 p.m. at the Villamor Air Base in Pasay City.
In his arrival speech, Marcos described his trip as "productive" and "successful" following plans of European companies to expand their businesses in the Philippines.
"I am also pleased to announce that European business confidence in the Philippines is high as evidenced by the expansion plans of European companies that we met in the sectors of fast-moving consumer goods, in shipbuilding, renewable energy and green metals. An estimated investment pledge of around PHP9.8 billion has been received," he said.
He said he had "fruitful discussions" with ASEAN and EU member states' leaders where they exchanged views on what is in store for ASEAN-EU cooperation, particularly on areas of mutual interest and concern such as connectivity, trade, digital transition, food security, climate change and geopolitics, among others.
"I was honored to deliver one of the opening remarks during the Commemorative Summit, in which I was proud to note the recent milestones in ASEAN-EU relations under the Philippines' coordinatorship – the adoption of the ASEAN-EU Plan of Action for 2023 to 2027 and the successful conclusion of the first-ever Summit between ASEAN and EU Leaders," he said.
During the 10th ASEAN-EU Business Summit, he also shared the Philippines' perspective on deepening ASEAN-EU trade through efforts in sustainable development.
He, likewise, met with several business leaders from different European companies throughout the week.
"All of them committed to be a part of our development and our economic growth, particularly in renewable energy, infrastructure, food security [and] climate change initiatives. With European technology and innovation with Filipino talent and ingenuity and industry, we will be working on addressing some of our key economic challenges," he added.
Marcos said he met various leading shipowners all over Europe and got their commitment to helping the Philippines hurdle some of the challenges in our seafarers' European Maritime Safety Agency (EMSA) accreditation through the creation of an advisory council composed of concerned government agencies, international and local shipowners and other stakeholders.
He also met with the EU Commission President Ursula von der Leyen where he got to explain the Philippines' efforts to comply with EMSA standards.
"She [von der Leyen] made a promise that the Commission itself would provide technical help to us so that within the three months – we have a three-month deadline – within the three months that we will be able to remedy all of the deficiencies that EMSA has been pointing out and hopefully we finally solve this problem," he said.
The Philippine delegation, he said, also organized a business roundtable that served as an important catalyst for the renewed relations between the Philippines and the EU business communities.
"I was joined by the economic managers and other Cabinet members where I announced our recent game-changing laws that aim to transform our business environment significantly in favor of investors and support for inward foreign direct investments," he said.
Marcos said he was granted an audience with the King of Belgium, who fondly recalled his visit to the Philippines many years ago.
He also invited the King to visit the Philippines again.
He held bilateral meetings with his counterparts from the European Council, the European Commission, Estonia, Sweden, Czech Republic, the Netherlands and Spain, with whom he identified many possible areas of further development and future partnerships.
He also met with fellow Filipinos living in Belgium and nearby European countries like Italy, Poland and Germany.
"It was a very fulfilling event as I was able to personally thank them for their support. I was also able to hear their concerns and update them on the priorities of this administration," he said.
Cold
Meanwhile, Marcos said a "downside" of his Brussels trip was dealing with colds while delivering speeches and attending meetings.
"Ang naging downside lang ay nakakahiya 'yung Presidente ninyo dahil noong nagsasalita ako papiyak-piyak ako na ano ganoon. Pero naintindihan naman daw nila. Sabi ko na lang sorry na lang dahil 'yung mga winter ninyo hindi bagay sa Pilipino 'yan kaya kako nagkaganito (The only downside was that your President was embarrassing because when I spoke I would sound squeaky. But they said they understand. I just said I'm sorry because your winters are not suitable for Filipinos that's why you're like this)," he said.
In a chance interview with reporters, the President admitted that he used to handle the cold weather just fine.
"Dati ang tibay ko sa lamig eh. Ewan ko ano nangyari sa akin (I used to do fine in the cold. I don't know what happened to me)," he said.
Earlier, Department of Trade and Industry (DTI) Undersecretary Ceferino Rodolfo said top European leaders expressed admiration for Marcos' dedication to attending all meetings despite catching a cold.
"Lahat po ng mga meeting niya with the businessmen, pinuntahan niya ho kahit ho wala na siyang boses, talagang pinilit niya ho mabigay 'yung mensahe niya. Sabi niya (All of his meetings with the businessmen, he went even though he no longer had a voice, he really insisted on giving his message. He said), the messages have to come from me as the President of the Philippines, inviting the investors," he said. (PNA)