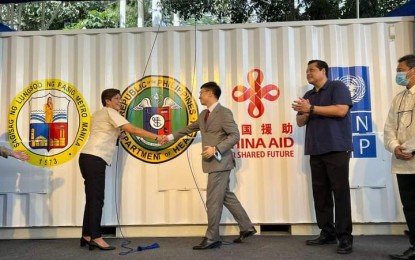 MANILA – The Department of Health has joined forces with China and the United Nations Development Programme (UNDP) to improve the country's response to coronavirus disease 2019 (Covid-19) in the areas of medical waste management.
In a statement Friday, DOH officer-in-charge Undersecretary Maria Rosario Vergeire said healthcare waste management must be maintained as the country progresses to a post-Covid society.
"It is in our best interest to scale up the establishment of a healthcare waste management process and continue building up on the progress this project has achieved," she said.
Vergeire thanked China and the UNDP for mobilizing assistance in strengthening the country's response to Covid-19.
"Your support during this unprecedented time truly reflects the spirit of "bayanihan" - a fundamental aspect of Filipino culture that means working together and ensuring community efficacy towards a common goal. We hope that by continuing to forge our partnerships, the work towards a Healthy Pilipinas progresses as well," she said.
The project titled "Learning Experience to Improve the Ability of Response to COVID-19 in Asia and the Pacific" is financed by the South-South Cooperation Fund.
It would facilitate the provision of technical support and training of healthcare professionals on healthcare management.
Several equipment donated to the national government will be distributed to hospitals and facilities nationwide.
It upholds the goals of Universal Health Care in the context of an evolving pandemic response -- recognizing that effective medical waste management is an essential public health service -- and ensuring that investments in resilient health systems involve underlying systems that support a strong healthcare workforce and waste infrastructure. (PNA)