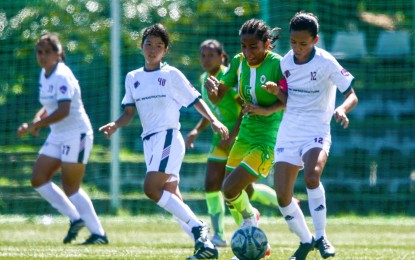 MANILA – University of the Philippines (UP) and Far Eastern University (FEU) will dispute the Philippine Football Federation (PFF) Women's Cup title at the PFF National Training Center in Carmona town, Cavite province on Saturday night.
The title showdown is set at 7 p.m. while the battle for third place between Kaya FC-Iloilo and Tuloy FC will be at 4 p.m.
UP and FEU marched into the championship after posting upset victories over their higher-ranked opponents on Dec. 11.
UP downed Kaya FC-Iloilo, 5-4, in a penalty shootout, as Jazinda Borra hammered home the winning spot kick while Jennifer Baroin and Frances Acelo provided the defensive stops.
FEU, on the other hand, scored a 3-0 win over Tuloy FC, with goals from Katrina Magbitang, Lylhanie Cayabyab, and Dionesa Tolentin.
FEU blanked UP, 2-0, in the elimination stage, courtesy of goals from Regine Rebosura and Tolentin.
"The girls accepted their capabilities on what to do to contain the strengths of their opponents. and the awareness and willingness to sacrifice and work for the team. We're appreciative of the efforts of our players and all the more that we have to work together as a team," UP head coach Andres Gonzales said in an interview.
FEU coach Marnelli Dimzon said her players are in high spirits and are prepared individually, physically and mentally for the finals.
"The players have good characters and the more they are challenged, they show their fighting spirit," Dimzon said in another interview. (PNA)