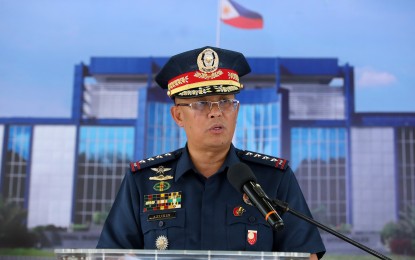 MANILA – Combined operatives from the Philippine National Police (PNP) and the Philippine Drug Enforcement Agency (PDEA) have arrested two notorious drug dealers in successive anti-illegal drug operations which resulted in the confiscation of some PHP9.8 million worth of suspected shabu last Dec. 13 to 14.
In a statement Saturday, PNP Chief, Gen. Rodolfo Azurin Jr., said Jomer Lucera Nera alias "Palits", was arrested around 11:57 p.m. on Dec. 13 at Purok Daus, Barangay Poblacion 61 in Real town, Quezon province.
The joint operation was conducted by personnel of the Provincial Drug Enforcement Unit (PDEU)-Quezon, Quezon Provincial Mobile Force Company (QPMFC), Provincial Intelligence Unit (PUI)-Quezon, Philippine Drug Enforcement Agency in Quezon (PDEA-4A), and Real Municipal Police Station Drug Enforcement Unit.
Confiscated from the suspect were eight sachets containing suspected shabu weighing more or less 59.02 grams with an estimated street value of PHPP1,222,980, one-piece knot containing suspected cocaine containing more or less 59.78 grams with an estimated street value of PHP950,502 and buy-bust money.
On Dec. 14 at around 9:40 a.m. at Purok Villa Sante, Barangay Ibabang Dupay in Lucena City, Quezon, a follow-up drug-bust operation was conducted by personnel of PDEU Quezon Police Provincial Office (QPPO), PDEA 4A-Quezon and Lucena CPS Intel/Station Drug Enforcement Unit (SDEU) which resulted in the arrest of Jasmin Dagohoy Abueg alias "Madam Tess", "Jas", 40 years old.
Seized from the suspect were three pieces of knot-tied plastic bags containing suspected cocaine weighing more or less 489 grams with an estimated street value of PHP7,775,100, one PHP1,000 bill buy-bust money, and one black sling bag.
The two arrested suspects were brought to the police station, while pieces of evidence were brought to Provincial Crime Laboratory Office for laboratory and drug test examination. The suspects are now facing criminal complaints in violation of Section 5 and 11 of Art. II of Republic Act 9165, the Comprehensive Dangerous Drugs Act of 2002.
"Congratulations to our PNP and PDEA operatives, particularly PRO-4A headed by PBGen Jose Melencio Nartatez Jr, Regional Director, for the hard work which led to the confiscation of over PHP9.8 million worth of illegal drugs and arrest of two drug dealers. Our aggressive stance on anti-illegal drugs campaign will continue without let up to break the supply chain of illegal drugs in the country. The joint force of PNP-PDEA will not stop its efforts in pursuing drug syndicates until the last of them are put behind bars," Azurin said. (PNA)