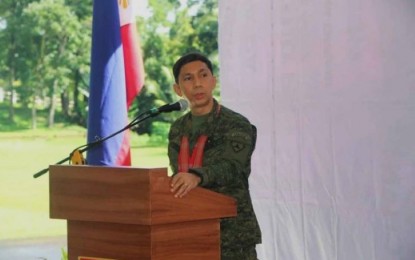 CEBU CITY – Visayas Command (Viscom) chief, Maj. Gen. Benedict Arevalo, on Monday condemned the continued use of anti-personnel mines (APM) by the Communist Party of the Philippines–New People's Army (CPP-NPA) despite being prohibited under international law, citing its ill effect on civilians and government troops.
Arevalo's reaction came after six members of the 20th Infantry Battalion were injured in a blast on Sunday while the government troops were securing an ongoing water system project at Barangay Quirino in Las Navas town, Northern Samar province.
According to Arevalo, the continued use of APM poses a danger not only to the soldiers but also to the civilians.
"The NPA's continuous use of anti-personnel mines is a clear manifestation of their willful neglect to the safety of the community and the people who might be affected by the blast of these prohibited devices," he said in a statement.
Arevalo vowed a "response to this incident will be swift and resolute," while he assured that "the perpetrators will be brought to justice."
"With the anti-development mentality of the CPP-NPA, this attack is their desperate attempt to disrupt the peace and development endeavors of the government in Northern Samar where the Support to Barangay Development Program (SBDP) of the NTF-ELCAC (National Task Force – Ending Local Communist Armed Conflict) is taking a full swing and the focused military operations of the government troops have been effective in neutralizing their leaders and degrading their forces," he added.
The barangay, according to Viscom, is one of the seven villages in the said town chosen for several development projects including the Barangay Development Program of the NTF-ELCAC.
The six soldiers were present to secure the project through its Communist Support Program (CSP).
In an earlier statement, Arevalo said the CSP serves as a "bridge that brings the government closer to the people in far-flung communities."
"It is the AFP's contribution to the government's whole-of-nation approach, wherein military personnel are immersed in the community to identify and validate issues that are exploited by the CPP-NPA in order to agitate the people and persuade them to go against the government. These issues will be brought to the attention of the concerned government agencies for their appropriate action," he said.
The 1997 Ottawa Convention or the Anti-Personnel Mine Ban Treaty prohibits the use, stockpiling, production and transfer of APM, citing its "horrific consequences" to the civilians or government troops who are either killed or maimed by APM blasts. (PNA)