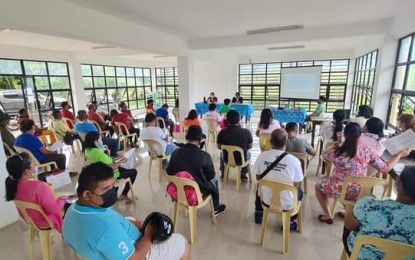 MANILA – A former lawmaker on Monday emphasized the need to right-size barangays (villages) to improve the delivery of basic government services.
Former Iligan City Rep.and now Mayor Frederick Siao said creating new barangays is an important part of addressing the existing challenges in public service delivery especially for oversized barangays.
Siao said that there are around 21 barangays nationwide with more than 100,000 residents, citing that the Local Government Code of 1991 provides that a barangay should have 5,000 residents minimum.
"Having 100,000 residents or more becomes at least 20 times more difficult with just one set of barangay officials and Sangguniang Kabataan officials. Sharing our lessons learned with other mayors and with Congress, I suggest that they also create new barangays when some of their existing barangays get to be so big in terms of population and population density," he said.
He said the added cost of creating new barangays is far outweighed by the improvement in quality and access to public services.
"Frankly, our country has too many oversized barangays, making delivery of public services much more difficult. We should learn our lessons from the pandemic during which larger barangays have had greater trouble containing Covid. Barangay health centers and local hospitals are pushed beyond their capacities," he said.
Aside from health services, the overcrowded barangays would add to the burden on other public services, including police, fire protection, education, sanitation and sports and wellness, he noted.
He said the voter registration period and the coming Barangay and Sangguniang Kabataan Election would also be a great opportunity for mayors and Congress to reflect on the need to create new barangays.
He cited the case in Iligan City wherein voter registration has special local significance, but which other growing cities can relate to.
Iligan, he said, is a growing city and the 18th Congress responded by creating five new barangays, so the next elections for barangay and youth officials will include voting for five new sets of officials for the new barangays: Acmac-Mariano Badelles Sr., San Roque, Luinab, Upper Hinaplanon, and Ubaldo Laya.
"Being a growing city comes with increasing urbanization challenges, especially of the public health and economic kinds. Iligan has a people population of over 360,000," he said.
The voter registration period for the October 2023 Barangay and Sangguniang Kabataan Elections started last Monday and will run until Jan. 31, 2023.
The Commission on Elections is expecting some two million new regular and youth voters to register. (PNA)