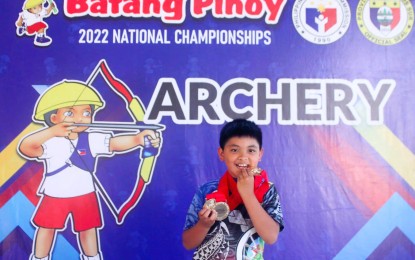 ILOCOS SUR – Archers Jathniel Caleb Fernandez of Baguio City and Adrianna Jessie Magbojos of Sta. Rosa City, Laguna bagged five gold medals each in the Philippine Sports Commission-Batang Pinoy National Championships at the San Ildefonso Central School on Monday.
The nine-year-old Fernandez, a Grade 3 student from Baguio Pines Family Learning Center, topped the boys' 10 meters (304), 15m (243), 20m (260), 30m (257) and final result (1064).
Magbojos, on the other hand, ruled the 10m, 15m, 20m, 30m and total in the girls' division.
In cycling, Maritanya Krogg won the girls' 13-15 years old individual time trial in 12:39.240 for her second gold medal. She is favored to claim her third gold in the road race event on Tuesday.
Also winning their respective categories were Jerick Cabael (14:06.448) in the boys' 13-and-under, Harvy Dolutan (22:32.823) in the boys' 14-15 years old and Aira Danara Gregorio (15:26.385) in girls' 14-15 years old.
Meanwhile, Alexander Gabriel De los Reyes of Quezon City captured three gold medals coming from the male Changquan, short weapon (Jianshu and Nandao) and long weapon events in wushu.
The double-gold winners were Quezon City's Zion Daraliay (female Taijijian and barehand-24 steps Taijiquan) and Manila's Rachel Joy Cheung (female barehand Changquan and Jianshu), while the other gold medalists were Manila's Ramzi Rosales (male barehand Nanquan), Rizal's Azriel Agreda (female barehand Nanquan), Gabriel Matthew Cua (male short weapon Daushu) and Davao City's Gillan Miguel Porras (male barehand-24 steps Taijiquan). (PNA)