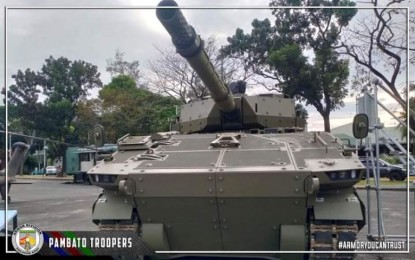 MANILA – The Armor Division of the Philippine Army (PA) got another boost with the arrival of one of its newly-acquired Sabrah light tanks.
The tank was displayed during the 87th anniversary celebration of the Armed Forces of the Philippines (AFP) at Camp Aguinaldo, Quezon City on Monday, which was graced by President Ferdinand R. Marcos Jr.
"One Sabrah light tank based on the ASCOD platform mounted with 105mm cannon as the main armament and coaxial 7.62 machine gun was one of the Armor 'Pambato' Division's newest assets that paraded over the 87th founding anniversary of the AFP on December 19, 2022, at the General Headquarters in Camp Aguinaldo, Quezon City," the PA's Armor Division said in a Facebook post on Monday night.
It added that the rest of these assets will arrive in early 2023 which is composed of "wheeled and tracked Sabrah light Tanks" that would beef up the 1st Tank Battalion's fleet of armored vehicles.
The Sabrah light tank arrived earlier this month and is now undergoing rigorous testing before being accepted for service.
The Armor Division is expected to receive 20 new Sabrah light tanks from Israeli defense manufacturer Elbit Systems Land and 10 Pandur II wheeled armored vehicles from Steyr-Daimler-Puch between 2023 to 2024.
The PA's light tank acquisition project is under Horizon 2 of the Revised AFP Modernization Program.
The contract is worth around PHP9.4 billion and was acquired via government-to-government mode.
Earlier, PA chief Lt. Gen. Romeo Brawner Jr. said the service's ongoing modernization efforts are allowing its units to help the AFP in fulfilling its mandate of protecting the nation and the people including in safeguarding the country's sovereignty.
"Moreover, the command installed 234 very small aperture terminals in remote patrol bases to provide connectivity to troops and outlying communities. To deal with emerging threats, the command activated units such as the 10th Field Artillery Battalion (SP-155), cyber battalion, five installation management battalions, and three infantry battalions. It also reactivated the 1st Tank Battalion which will serve as the mother unit of existing and upcoming tank assets of the PA," he added. (PNA)