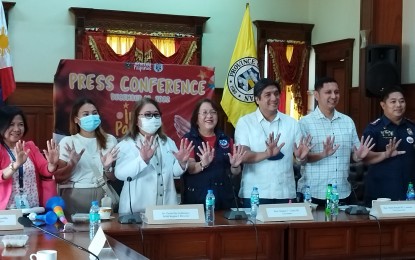 LINGAYEN, Pangasinan – Like other Filipinos, Pangasinenses have been used to welcoming the New Year with noises with the belief that loud sounds cast away bad luck for the coming year and many other superstitious and practical ways.

The "torotot" (trumpet) as well as kitchen utensils made of aluminum or steel are favorite noisemakers year after year as these are considered safe and affordable.

Following the countdown on televisions or radios, families gather outside their homes blowing the torotot and hitting the casserole, frying pan or pot with ladle just enough to produce noises as everyone jumps in hope to grow his height or in their career, relationship, finances and in life as a whole.

The different national government agencies and the provincial government of Pangasinan have been urging the public to shy away totally from using firecrackers or using legal ones if it cannot be avoided during the New Year revelry.

Pangasinan Governor Ramon Guico III has advised Pangasinenses to use alternative noisemakers and even urged the local government units to have their own community fireworks display in welcoming the New Year.

"For those near the capitol area, there is no need to use firecrackers as we are going to have pyrotechnics and fireworks display on New Year's Eve. Let us just watch together and enjoy the celebration safely," he said Monday in a press conference.

Guico said 14 provincial government-run hospitals and other concerned agencies in the province will be monitoring on that day to assist emergency cases.

"I will be issuing an Executive Order reiterating Republic Act 7183 (An Act Regulating the Sale, Manufacture, Distribution, and Use of Firecrackers and Other Pyrotechnic Devices) to the local chief executives and chiefs of police," he said.

Guico appealed to the public to target zero firecracker-related incidents for this New Year celebration.

"Please let us look out for our family members, especially the men, because most of the injured during the revelry were men," he added.
Director Natalia Dalaten, of the Department of Trade and Industry in Pangasinan, reminded the public to buy certified products and from certified stores to prevent accidents or injuries.
Good luck

Nanay Delia Austria, a resident of Malasiqui town, is serving on New Year's Eve 12 kinds of round fruits or chocolates or native cakes whatever is available as round is considered good luck for finances.

She said they usually have watermelon, oranges, longan, puto (native rice cakes), among others, on their table come the celebration.

Couple Arnold and Regina Martin have been used to placing one-peso coin in their house's windows and in their pockets.

"We don't cling unto it as if it is the only way to be blessed financially because we trust in God to bless us. We are just used to doing it every year," they said.

Native rice cakes are also believed to maintain close family ties thus these are also present on the tables.

Chicken dishes, on the other hand, are somewhat bad luck for New Year as it would make good fortune literally fly away.

But some would ignore this belief as fried chicken is still one of the best dishes especially for children.

Another belief associated with New Year is that whatever you do on the first day of the year would reflect one's whole year.

Enzo Austria said he would like to open his food stall on Jan. 1 after the New Year revelry to welcome a good year for his business. (PNA)