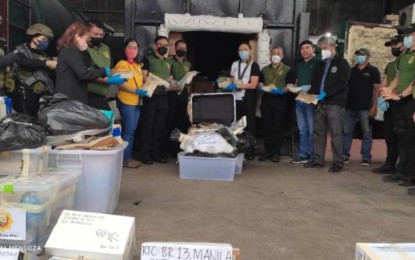 MANILA – The Philippine Drug Enforcement Agency (PDEA) on Tuesday destroyed over PHP7.2 billion worth of various dangerous drugs, controlled precursors and essential chemicals (CPECs) at the Integrated Waste Management Inc. (IWMI) facility in Trece Martires City, Cavite.
Destroyed were a total of 1.4 million grams of dangerous drugs and a total net volume of 101.8 milliliters of drug evidence seized from anti-drug operations by PDEA and other law enforcement agencies.
Based on the consolidated report of the PDEA Laboratory Service, the illegal drugs included 1.06 million grams of shabu worth PHP7.2 billion, 317.4 kilograms of marijuana worth PHP38 million; 230.4 grams of cocaine worth PHP1.2 million; 9,169 grams of ecstasy worth PHP15 million; 1,037.8 grams of ketamine worth PHP4.04 million, among others.
In a statement, PDEA noted that the seized dangerous drugs were destroyed through thermal decomposition or thermolysis which involves breaking down chemical compounds with the use of tremendous heat.
"At 1,000 degrees Centigrade, all dangerous drugs are totally decomposed or broken down,'' it added.
The destruction of the dangerous drugs is in compliance with the guidelines set on the custody and disposition of seized dangerous drugs under Section 21, Article II of Republic Act 9165, or The Comprehensive Dangerous Drugs Act of 2002, and Dangerous Drugs Board Regulation No. 1, Series of 2002.
Representatives from the Department of Justice, the Department of the Interior and Local Government, local officials of Barangay Aguado, Trece Martires City, the Philippine National Police and other law enforcement agencies, non-government organizations and media partners together with key PDEA officials witnessed the activity.
Meanwhile, PDEA handed over cash rewards amounting to PHP11.2 million to four informants on Monday at the PDEA National Headquarters in Quezon City.
PDEA top officials commended the informants identified through their codenames -- Mala, Denver, Dream and Mambo -- for providing information that led to the successful anti-drug operations, seizures of voluminous amounts of illegal drugs and arrest of high-value targeted drug personalities under the PDEA "Operation: Private Eye".
The Operation Private Eye Rewards Committee, composed of members from the academe, non-government organizations, law enforcement, religious and business sectors approved a resolution granting the monetary rewards to the four qualified informants for the 4th Quarter of CY 2022 after careful deliberation.
The largest reward - a total of PHP6 million - was received by informant "Mambo" who provided information to the PDEA Intelligence Service in three separate instances, all resulting in successful anti-drug operation.
"Operation Private Eye" is PDEA's long-standing citizen-based information collection program designed to encourage the active participation of private citizens to report illegal drug activities in their communities. The OPE is credited for providing key intelligence in many of PDEA's high-impact operations. (PNA)