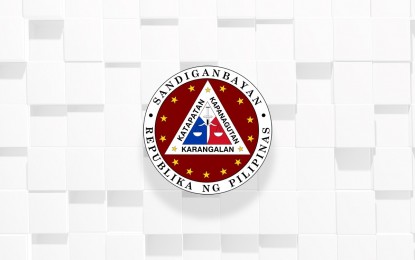 MANILA – The Sandiganbayan turned down the appeal of two former officers of the defunct National Agribusiness Corporation (Nabcor) and affirmed their conviction for graft and malversation handed down in September.
Encarnita Munsod, former human resources manager, and Romulo Relevo, ex-head of the general services unit, were implicated in the alleged misuse of the congressional fund of the late Teodulo Coquilla of the lone district of Eastern Samar in 2007 through the non-governmental organization Gabaymasa Development Foundation, Inc.
In a 12-page resolution dated Dec. 12 and released Tuesday, the anti-graft court denied the duo's motions for reconsideration for lack of merit.
They were meted up to 40 years of imprisonment in the ruling dated Sept. 2 as they "willingly" connived with Coquilla to embezzle funds through the implementation of a fictitious and non-existent livelihood project.
Investigators said Gabaymasa got unwarranted benefits and preference, receiving PHP4.365 million in funds from the lawmaker's Priority Development Assistance Fund (PDAF) without public bidding and despite being unaccredited and unqualified to undertake the projects.
The two caused the illegal transfer of funds from Nabcor to Gabaymasa with falsified acceptance and delivery reports, disbursement reports, project proposals and other important documents, according to the ruling.
Munsod denied that she was a signatory in the disbursement voucher and like Relevo, argued that there was no evidence of conspiracy
Coquilla died on April 30, 2018 reportedly after undergoing a medical procedure.
"The court reiterates its finding that accused Relevo and Munsod acted in conspiracy with the accused...by turning a blind eye to the irregularities surrounding the disbursement of funds. As such, they are equally liable without regard to their respective participation," the court said in its latest resolution.
Gabaymasa's Margie Luz was included in the September conviction.
The charges against the other accused, namely Nabcor president Alan Javellana, chief accountant Julie Villaralvo-Johnson and Ma. Cristina Vizcarra of Gabaymasa, are archived as they continue to be at-large.
The court had already ordered the issuance of the appropriate warrants of arrest.
Nabcor was primarily engaged in the production of livestock and agriculture products.
It was abolished in 2013 after it became a conduit of the irregular disbursement of PDAF allocations. (PNA)