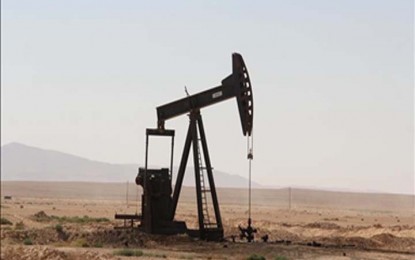 ANKARA – Oil prices rose Tuesday over bullish demand outlook following a United States decision to kick off replenishment of its emergency stockpiles and over the falling value of the US dollar, which makes dollar-indexed oil cheaper to buyers.
International benchmark Brent crude traded at USD80.23 per barrel at 9:54 a.m. local time (0654GMT), up 0.53 percent from the closing price of USD79.80 a barrel in the previous trading session.
American benchmark West Texas Intermediate (WTI) traded at USD75.86 per barrel at the same time, a 0.63 percent gain after the previous session closed at USD75.38 a barrel.
The upward movements of prices were driven by rising demand hopes after the US Energy Department on Friday announced repurchases of oil to begin replenishing the Strategic Petroleum Reserve (SPR) following a 180-million-barrel release over several months to stem rising energy prices.
The government said the bidding to lock in prices for February delivery would start on January 13.
"We believe the first 3 million barrels would cost taxpayers between USD69 to USD72 per barrel," Randall Mohammed, former vice president of energy for Ahart Solutions International and an energy market commentator, told Anadolu Agency.
"Whether the bids have been issued to domestic and/or international suppliers isn't clear, although we know that the SPR stocks a combination of light, sweet, and heavy/medium sour crudes."
The US dollar's decline in value encouraged importers to purchase dollar-indexed crude oil at lower prices, helping upward price movements.
The US dollar index, which measures the greenback's value against a basket of currencies, including the Japanese yen, British pound, Canadian dollar, Swedish krona and Swiss franc, fell 0.20 percent to 104.13.
Bearish sentiment in the market is supported by concerns that China, the world's largest oil importer, will step up strict pandemic mitigation measures as the country has been facing a surge of cases amid warnings of waves of coronavirus disease 2019 (Covid-19) infections over the months to come. (Anadolu)