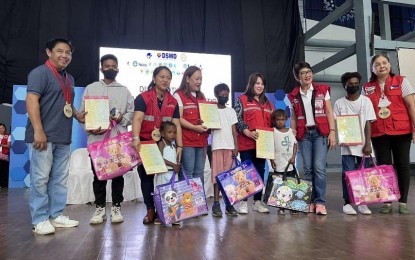 CEBU CITY – Almost a hundred children who are members of the Ati and Badjao tribal communities in Cebu on Wednesday received certificates as their records of birth through a service caravan for indigenous peoples (IP) at the Hoops Dome in Lapu-Lapu City.
Department of Social Welfare and Development (DSWD) Assistant Secretary Irene Dumlao said the distribution of the birth certificates issued by the Philippine Statistics Authority to 57 Badjao children and 41 Ati children was part of the Christmas gifts to the IP families in Cebu, in response to President Ferdinand Marcos Jr.'s directive to provide care and protection to the vulnerable sectors.
Dumlao said various agencies of the national government, local government units (LGUs) in Cebu and civil society groups teamed up to provide the services to the members of the Badjao community from Barangay Mambaling here and the Ati tribe from the City of Naga.
Among the agencies that took part in the activity were the Department of Health, Department of Labor and Employment, Department of Education, Technical Education and Skills Development Authority, National Commission on Indigenous Peoples (NCIP), Population Commission, Armed Forces of the Philippines and the Philippine Statistics Authority.
"Today, our cities here will be provided with assistance such as hygiene kits, homelife kits, noche buena packs, educational assistance, livelihood assistance and school kits. We also have medical and dental check-ups, vaccination, national ID registration, hair grooming, education and jobs fair and a fun day," said Dumlao, reading the message of DSWD Secretary Erwin Tulfo.
Shalaine Marie Lucero, DSWD-7 regional head, said the DSWD led the caravan to provide special protection programs for children, families and IPs in street situations.
She said the DSWD has developed a social technology called Comprehensive Program for Children, Families and Indigenous Peoples that ensures sustained collaborative work with partner agencies and stakeholders in the community to provide a package of services to the identified beneficiaries.
Lucero said a regional inter-agency technical working group on CFIPSS composed of national government agencies, non-government organizations and LGUs was created to extend services and share informational materials to the beneficiaries at the event.
She cited DepEd's IP Education Program (IPEP) where Badjao children who used to beg for alms on the street were brought to the Cebu City Don Carlos A. Gothong Memorial National High School to receive formal education.
The teachers at the school in Barangay San Nicolas-Proper here produced a specially crafted dictionary comprising indigenous words and expressions common to Badjao people that serves as a guide for them to understand their indigenous language, practices and culture.
The dictionary was validated through the Badjao community chieftain and the NICP. (PNA)