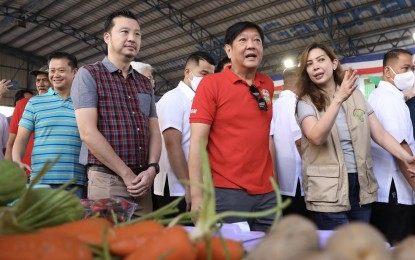 MANILA – A number of programs launched by the administration of President Ferdinand R. Marcos Jr., including the "Kadiwa ng Pasko" caravan, received high approval ratings, according to results of the recent PUBLiCUS survey.
PUBLiCUS' PAHAYAG 2022 End of the Year Survey showed 84 percent of respondents approved or strongly approved of the launch of Kadiwa, a national caravan selling affordable and high-quality products to cushion the impact of inflation and price surges associated with the Christmas season.
Launched on Nov. 16, the Kadiwa ng Pasko project is an initiative of the Office of the President and led by the Department of Agriculture.
It provides a direct farm-to-consumer food supply chain to eliminate several marketing layers and help boost the income of local agricultural producers.
To date, there are nearly 400 Kadiwa stalls nationwide with over 40 of them located in Metro Manila.
Kadiwa stalls were a brainchild of President Marcos' parents, late former President Ferdinand Marcos Sr. and former First Lady Imelda Marcos.
Eighty percent of respondents approved of both the Marcos administration's Libreng Sakay Program at the EDSA Bus Carousel and the value-added tax exemption on electricity and water.
The launch of various infrastructure projects by the Marcos administration under "Build Better More" such as Farm-to-Market Roads (FMRs), Samal Island-Davao City Bridge, Central Luzon Link Expressway and subway were welcomed with 78 percent of the respondents approving or strongly approving them.
Seventy-seven percent of respondents approved of the government's support for the marginalized sector.'
The government's response to natural disasters such as typhoons and earthquakes and the hybrid work arrangement was approved by "8 in 10 Filipinos.''
Other issues with high public approval included fighting criminality/improving defense, collaborating to improve internet speed, resumption of face-to-face classes under a hybrid setup and optional outdoor masking.
Last Friday, Marcos signed into law the PHP5.268-trillion national budget for 2023, giving priority to education, infrastructure development, health, agriculture and social safety nets.
He said the spending plan will provide the government with a tool to transform the economy and uplift more Filipinos from poverty.
PureSpectrum, a US-based panel marketplace with a multinational presence, randomly sampled 1,500 registered Filipino voters who participated in the PAHAYAG 2022 End of the Year Survey.
The survey, from Nov. 25-30, 2022, has a margin of error of +/- 3 percent.
PAHAYAG is an independent and non-commissioned national purposive survey by PUBLiCUS Asia Inc. (PNA)