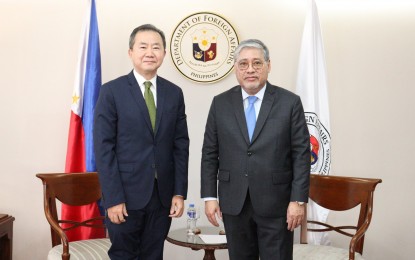 MANILA – The Philippines and Republic of Korea formally inked an agreement on Wednesday allowing Manila to tap up to USD3 billion of official development assistance (ODA) loans from Seoul.
Department of Foreign Affairs (DFA) Secretary Enrique Manalo and Korean Ambassador to the Philippines Kim In Chul signed the "Framework Agreement Concerning Loans from the Economic Development Cooperation Fund (EDFC)" during a ceremony at the DFA office in Pasay City.
Under the agreement, Manila could access ODA loans until 2026 to fund its infrastructure and green projects.
"We thank the Republic of Korea for its swift and steady support to Philippine development efforts," Manalo said.
"Korea's maximum commitment amounts to USD3 billion, which is three times the amount of the previous arrangement. This will pave the way for more development cooperation projects, especially in infrastructure and climate and green-related areas," he added.
Manalo further acknowledged the "firm foundation of trust and friendship" between the people of the Philippines and South Korea.
The DFA said the amount indicates that the Korean government's thrust aligns with the Philippines' socio-economic priorities.
One of the major loan projects to be funded is the Panay-Guimaras-Negros Island Bridges Project that would construct a four-lane, 32.47-kilometer, two-sea-crossing bridges, connecting the islands of Panay, Guimaras and Negros.
Also included are the 13.32-kilometer road project traversing the coastal areas of Mandaue, Consolacion and Liloan in Cebu as well as the Ilocos Norte and Abra Irrigation project for a 126.41-meter high storage dam, a power plant to generate 42.8 MW of electricity and other components for watershed management.
Other flood control projects under the Philippine-Korea Project Preparation Facility are also in the pipeline, according to DFA.
"(South Korea's) participation in Philippine infrastructure development, including the construction of highways, railways, ports and airports, is an important aspect of bilateral relations between the two countries," it said.
South Korea is the Philippines' sixth largest ODA source in 2021.
So far, it has funded an array of development projects such as the Phase 2 of the Jalaur River Multipurpose Dam Project worth PHP11.2 billion which is irrigating more than 31,000 hectares of land, mitigating flooding in the downstream communities and connecting bulk-water supply in Iloilo; the PHP9.2-billion construction of a port with cargo handling capacity on a reclaimed land to address port congestion in the Cebu International Port; and the construction of a two-lane bridge across the Panguil Bay, connecting Misamis Occidental and Lanao del Norte worth PHP7.4 billion. (PNA)