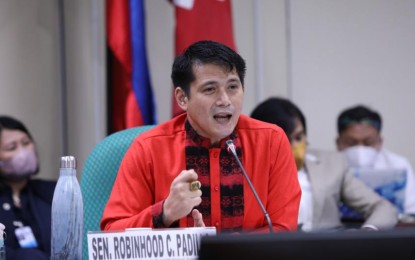 MANILA – Senator Robinhood "Robin" Padilla has filed a bill seeking to ensure religious freedom in all educational institutions, and at the same time protect the students in their religious beliefs.
Senate Bill 1609, or the proposed Act Protecting Free Exercise and Enjoyment of Religion of Students in Educational Institutions, Padilla wants to give learners the "liberty to disassociate and excuse themselves from participating in any religious classes and activities that interfere with his religious tenets or faith without the fear of expulsion, sanction, or reprimand."
In filing the bill, he noted that there are accounts on how education failed to distinguish students by basis of religion, making Religion classes offered in general despite the fact that some students belong to another religion.
Padilla said problem arises when students are compelled to enroll in religious classes and attend academic activities that interfere with their religious tenets and practices without the discretion to exclude themselves or exemption from these religious classes, students are inclined to practice and engage in religious beliefs different from their faith.
Under SB 1609, educational institutions shall ensure that all students are not discriminated against on account of their religious belief, affiliation, or engagement in any religious activity; shall respect every student's right to express or wear their religious clothing inside the campus or during school-related activities outside the school premises; shall be prohibited from requiring students to participate and attend any religious activity or their performance.
The bill also mandates the Department of Education, the Commission on Higher Education, and the Commission on Human Rights to conduct awareness and educational activities in order to promote the proposed law.
It also states that no student shall be required to be taught with, to be enrolled in, or to take a religious value, lesson, subject, or course different from his or her religion without the written consent of the student, and in case if the student is a minor, the bill provides that a parent or legal guardian shall execute the written consent on behalf of the learner.
Under the bill, violators may face a PHP500,000 fine and/or suffer imprisonment of not less than six years.
If the violation was committed by a corporation, organization, or any similar entity, the officials and employees directly involved shall pay a PHP 2 million fine and/or suffer an eight-year imprisonment. (PNA)