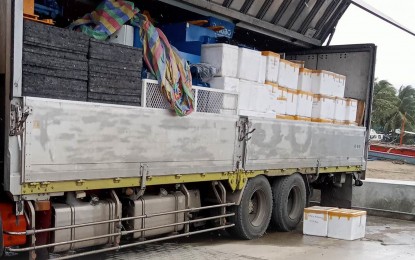 ILOILO CITY – The public is urged to help prevent the entry of African swine fever (ASF) and know its detrimental effect to the industry in Western Visayas following the apprehension of 74 boxes of undocumented pork products and eight cartons of ham bound for Capiz, Iloilo and Bacolod at the Jetty Port in Caticlan, Aklan during a routine inspection.
"While it is the tradition of Filipinos to prepare ham during Christmas and New Year, we have to consider the risk that it will cause because we still have a continuing battle against ASF," Bureau of Animal Industry-Veterinary Quarantine Station Aklan provincial coordinator Dr. Wendel Maglantay said in an interview on Thursday.
The pork products, including undocumented and unlabeled ham, estimated to be worth close to PHP2 million was apprehended on Dec. 17.
Maglantay said that apprehended shipments can be returned to the sending entity within 24 hours, otherwise, it will be considered abandoned and be subjected to proper disposal.
The province's General Ordinance 2011-011 that governs the prevention and control of the ASF in the province, bans the entry of all pork and pork-based products to the province, whether labeled or unlabeled, if they came from areas with cases of the animal disease.
In Oct. 14 this year, the provincial government issued Executive Order No. 45 reiterating the prohibition following the confirmation of ASF cases in Iloilo.
Maglantay said a 24-hour monitoring is continuously being conducted at the Caticlan and Kalibo airports and at the busy port in Caticlan.
Vessels coming from Manila and Mindoro passes by the Caticlan Jetty Port as their port of entry in going to various areas in Western Visayas.
In a separate interview, Aklan veterinarian Dr. Joseph Lachica said they are very strict with the conduct of border control since they are not only guarding against the entrance of ASF but also avian influenza.
"We are now regulating pork and chicken, especially that there are now cases of bird flu in Capiz. Executive Order No. 056, series of 22, now prohibits live birds coming from Luzon and Capiz, except for eggs and meat products. For ASF, Aklan has banned all live and pork products from other provinces in Panay Island," he said.
The border control is situated at the airport and jetty port while a random check is being conducted in other ports that served as berthing areas of motorized bancas.
Aklan currently remains free from the ASF. (PNA)