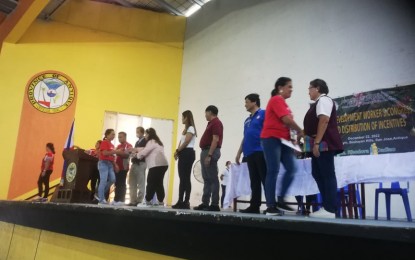 SAN JOSE DE BUENAVISTA, Antique – The provincial government of Antique on Thursday released over PHP3.9 million in cash incentives to the province's 784 child development workers (CDWs) during the CDW Provincial Congress held at the Binirayan Gymnasium.
Antique Governor Rhodora J. Cadiao, who led the distribution of the PHP5,000 incentive to each worker, said that the province was able to overcome the many challenges like the surge of Covid-19 and the recent Severe Tropical Storm Paeng with the help of CDWs.
"Despite of the pandemic, the CDWs continued to render their services in teaching their day care pupils." Cadiao said.
"While they were also affected by Paeng, they still served families who were evacuated at their centers," she added.
In further appreciation of their services, the governor announced that with the support of the provincial board, the provincial government is considering to double the PHP5,000 incentive next year.
The provision of incentives was mandated under Provincial Ordinance 2021-296 that was authored by Board Member Mayella Mae Plameras-Ladislao, chair of the provincial board committee on Social Services, who also graced the distribution together with Board Members Karmila Dimamay, Alfie Jay Niquia, Emmanuel Palacios Jr. and Rony Molina.
"The CDWs services is very important especially so since they are handling children in their formative years," Ladislao said, adding that "the CDWs really deserve the remuneration given them."
Recipient CDW Angelita Dionela from the Municipality of Sebaste said that she is grateful for the incentive.
"The PHP5,000 will be used by my three children for their allowances when their classes once again open," she said.
She said that she will also set aside a little amount for some food that the family will share on Christmas eve.
Anini-y town CDW Rema Del Rosario, meanwhile, said that they are only receiving PHP4,000 monthly from their local government unit, but she still persevered in her work.
She said that she loves teaching day care children, while at the same time, her income from being a CDW helps send her six children to school. (PNA)