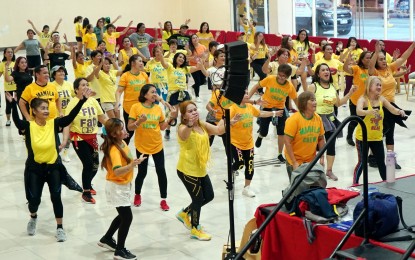 MANILA – A senator has renewed the proposal to grant a one-day leave with pay for private and public female employees during their menstrual cycles, regardless of the nature of work.
Senate Bill No 1545, or an Act Granting Sanitary Leave of One Day with One Hundred Percent Daily Remuneration to all Female Employees, will fulfill the state's duty to provide protection to women, according to bill author Senator Bong Revilla,
In a news release on Friday, Revilla cited Article XIII, Section 14 of the constitution that the "State shall protect working women by providing safe and healthful working conditions, taking into account their maternal functions, and such facilities and opportunities that will enhance their welfare and enable them to realize their full potential in the service of the nation."
Female labor force in the country consists of 39.33 percent in 2021, based on a World Bank collection of development indicators compiled from officially recognized sources.
In his explanatory note, Revilla said women experience symptoms of premenstrual tension that last between 10 and 14 days.
Such symptoms include constipation, abdominal cramps, aching legs, and even severe pain.
The bill instructs the Department of Labor and Employment, Civil Service Commission and Department of Health to jointly come out with the implementing rules and regulations.
Any person, corporation, partnership and association that will violate the law shall be find not more than PHP100,000 and officials imprisoned between 30 days and six months.
A similar bill was filed by the late senator Miriam Defensor-Santiago in 2004 but failed to reach plenary debates.
It proposed a one-day leave but with only 50 percent remuneration.
In La Union, the provincial government implemented a Menstrual Privilege policy beginning October.
Executive Order (EO) No. 25 grants employees a "two days per month privilege" on their period days when they can work from home.
The provincial government will provide menstrual kits in every office.
"I hope that with this EO, we can spread awareness and be kinder to our female employees especially on their period days," said Governor Raphaelle Veronica Ortega-David during the signing. (PNA)