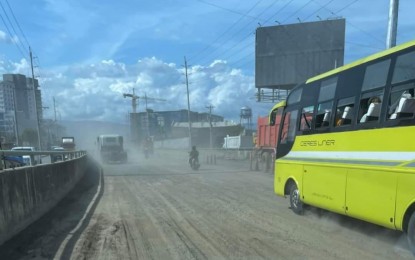 CEBU CITY – The Department of Public Works and Highways in Central Visayas (DPWH-7) on Friday assured Cebuanos it has been conducting remedial measures and repair works at the junction of United Nations Avenue and Plaridel Street in Mandaue City pending the much-delayed completion of said project.
Engr. Ernesto Gregorio Jr., DPWH-7 regional director, said he inspected the project on Thursday and saw the repair works right on track, adding that they have "already prepared the base for immediate asphalting."
"I do share the same concern with Gov. Gwendolyn Garia. The project has caused tremendous inconvenience to the public. I want to really solve it as the honorable governor wanted (it to be), but right now I still need to await our central office's Legal Division's instructions on how to proceed with this issue," Gregorio told the Philippine News Agency, citing a pending case in court involving the project.
Garcia said in a press conference on Thursday night that her office is now identifying officials who would be parties to a lawsuit to be filed due to its failure to solve the dilapidated road condition leading to the second Mactan-Mandaue bridge connecting the roads to the Mactan-Cebu International Airport.
She encouraged DPWH officials to find an immediate solution to the unfinished road project to avoid a lawsuit.
The governor acknowledged that she received "some feelers" from the DPWH which may probably stop the province from filing charges.
"This (is an) unacceptable black mark to the image of Cebu and the negative impact to the economy precisely because of their very actions, machinations, or their agenda," Garcia said, emphasizing the need to decongest traffic as a huge volume of visitors is expected for the Sinulog in January 2023.
The DPWH-7 earlier said the tri-level project which includes a flyover, ground-level road and tunnel, was conceptualized in 2010 when the Metro Cebu Transport Master Plan (MCTMP) had not yet been created.
The project was awarded to a Leyte-based contractor but was canceled in March 2019 which prompted the latter to file a case in court.
Garcia, however, recalled that the Regional Development Council (RDC) in Central Visayas once proposed a roundabout or rotunda at the said junction but the DPWH-Region 7 field office approved the tri-layer.
The governor said a tunnel will not work in the area, citing another tunnel project of DPWH-7 along the Natalio Bacalso Ave. stretch in Barangay Mambaling in this city which has been constantly flooded during heavy rains. (PNA)