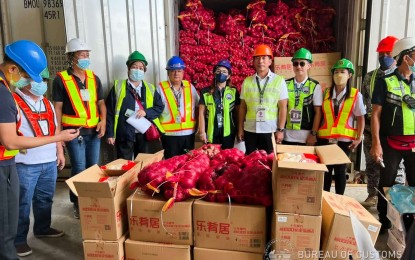 MANILA – The Bureau of Customs-Port of Subic (BOC-POS) has reported the seizure of 44 containers of misdeclared agricultural products from China early this month.
In a statement Friday, District Collector Maritess Martin reported the shipments arrived at the port on Dec. 5, 9 and 10.
It issued 17 alert orders and pre-lodgment orders against the shipments belonging to Asterzenmed Inc. and Victory JM Enterprise OPC.
Of the 44 containers, 24 were consigned to Asterzenmed Inc., while 20 were consigned to Victory JM.
Based on the initial report, a complete examination of five containers of STC frozen shabu-shabu Balls consigned to Asterzenmed Inc. yielded frozen items like shabu-shabu balls, whole mackerel, boneless buffalo meat and boneless beef (anglo).
On the other hand, four containers declared as bread (pastries) consigned to Victory JM contained mostly fresh red onions, several mantou and soft French bread.
Nine of the containers have an estimated value of PHP81.7 million.
She added that the complete examination of the remaining 35 containers is ongoing which would be used to produce a detailed report for the issuance of a Warrant of Seizure and Detention against the shipments.
The consignees may be charged for violations of the Department of Agriculture Administrative Order No. 18 series of 2000 and Department of Agriculture Department Circular No. 4 series of 2016 in relation to Section 1113(f) of the Republic Act No. 10863 (CMTA).
They also face violations of Department of Health – FDA Administrative Order No. 2020-0017, Department of Agriculture Administrative Order No. 9 series of 2010, and Section 117 in relation to Section 1113(f) of the CMTA. (PNA)